Best compact camera 2014: 38 reviewed
1st Jan 2014 | 15:00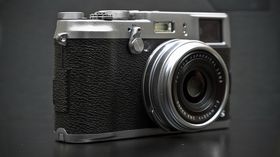 Get the best compact digital camera for your needs
Best advanced compact cameras
There are hundreds of digital compact cameras on the market, with advanced, superzoom and rugged camera options all being available, which makes finding the right one quite tricky.
The right choice, of course, depends on what you want from your compact digital camera. Maybe you're looking for a high-end compact camera to take the place of your SLR, or perhaps you want something more basic to get a few snaps on holiday.
Whichever type you are looking for, we've pulled together a selection of what we believe are the best compact cameras on the market now.
Best compact cameras: Advanced
Fuji X100S
Price: £1,000/US$1,300 (around AU$1,680)
Specs: 16.3MP APS-C format CMOS II sensor, EXR Processor II, Full HD video
Fuji's replacement to its popular FinePix X100 compact camera draws on user feedback to make improvements. The Fuji FinePix X100S uses the same APS-C format sensor, but with a 16.3 megapixel resolution and a new EXR Processor II and 6 x 6 RGGB filter array pattern.
We liked the retro design and control arrangement of the Fuji X100. Its image quality is also good, but it is surpassed by that of the Fuji X-Pro1, which is capable of producing pictures that aren't far off those from some full-frame cameras.
Read our Fuji X100S review
Fuji X20
Price: £480/US$600 (around AU$760)
Specs: 12MP X-Trans CMOS II sensor, 6 x 6 RGGB filter array pattern, 7.1-28.4mm f/2-2.8 lens
The Fuji X10 was our favourite high-end compact camera of 2012, and combining it with the same sensor design as one of our favourite compact system cameras - the Fuji X-Pro1 - bodes very well.
Fuji says it's made 50 improvements on the X10 for the X20, including a new 2/3-inch X-Trans CMOS II sensor with 12 million effective pixels and a 6 x 6 RGGB filter array pattern, which combines with an EXR Processor II. The Fuji X20 also boasts a hybrid AF system and a Digital Trans Panel in the viewfinder.
Read our Fuji X20 review
Canon Powershot G1 X
Price: £500/US$700/AU$650
Specs: Large 14.3MP CMOS sensor, 4x optical zoom, 1080p HD video, swivel LCD screen
Although the zoom range is limited when compared to other Canon G-series cameras, the trump card of the Canon G1 X is its unusually large sensor. A larger sensor has more surface area to receive light, improving image quality at high sensitivities and boosting dynamic range. Interestingly, Canon has opted to stick with the 4:3 aspect ratio, rather than 3:2 as most APS-C sensors are, even though the sensor in the G1 X is roughly the same height as APS-C format.
In order to make the most of what the sensor can offer, Canon has equipped the G1 X with the latest Digic 5 processor, which promises better control over noise at high ISO sensitivities, faster operation and smoother 1080p video recording.
The 4x zoom lens provides an angle of view equivalent to a 28-122mm lens on a 35mm camera, and the usual array of direct controls found on G-series cameras should make manual operation a pleasure.
Read our Canon G1 X review
Canon PowerShot G15
Price: £440/US$500/AU$520
Specs: 12.1MP CMOS sensor, 5x zoom lens, f/1.8 aperture
Buying Guide
Best high-end compact camera
At first glance, the Canon G15 looks pretty similar to the Canon G12, but there are a few significant differences. The most notable of these is the stacked or overlapping mode dial and exposure compensation dials on the top, and a new f/1.8 lens with 5x zoom.
Canon has manufactured a high quality compact camera in the shape of the Canon G15. It is capable of producing great images with bags of detail, good punchy colours and pleasing shallow depth of field effects.
Read our Canon G15 review
Nikon Coolpix A
Price: £1,000/US$1,100/AU$1,300
Specs: 16.2Mp APS-C format CMOS sensor, 28mm (equivalent) f/2.8 lens, 3-inch 921,000-dot LCD
Nikon has given the Coolpix A the same 16.2-million-pixel sensor as the Nikon D7000, but it has left off the anti-aliasing (low-pass) filter to allow it to record sharper details in-camera.
Aimed at serious photographers, the Coolpix A has advanced exposure modes such as aperture priority, shutter priority and manual as well as fully automatic and scene options.
Our tests reveal that the Coolpix A can capture lots of sharp detail, on a par with an SLR, but the file write times are a little longer than we'd like and vignetting is apparent in images shot with apertures down to f/8 and in some cases f/16.
Read our Nikon Coolpix A review
Nikon Coolpix P7700
Price: £390/US$400/AU$525
Specs: 12.2MP, 1/1.7-inch CMOS sensor, 7.1x zoom, 1080p video, 3-inch 921,000-dot variangle LCD
The Coolpix P7700 replaces the Nikon P7100 and sits at the top of Nikon's compact camera line-up. It's aimed at experienced photographers who want a smaller alternative to an SLR.
There's a liberal covering of control dials and buttons on the P7700's body giving quick access to features such as the shooting mode, sensitivity, white balance and exposure compensation to name just a few.
The lens offers an equivalent focal length range of 28-200mm in 35mm terms, and has a maximum aperture range of f/2.0-4.0.
Although the P7700 is capable of producing excellent images with lots of detail and nice colours, it is a little hampered by slow image processing making it unsuitable for shooting action.
Read our Nikon P7700 review
Olympus XZ-2
Price: £420/US$550/AU$550
Specs: 12MP 1/1.7-inch CMOS sensor, i.Zuiko Digital lens, TruPic VI processor, Full HD video
The Olympus XZ-2 follows the popular high-end XZ-1, touting a 3-inch tilting touchscreen with 920,000 dots, 1080p Full HD movie capture and full manual and semi-manual exposure controls. It also boasts raw image capture and can share photos straight from the camera to social networks.
Its super-fast i.Zuiko Digital lens has to be this camera's standout feature, offering ultra-wide apertures and an impressive focal length range of 28-112mm, which sails past many of its hottest contenders, and produces sharpness straight out of the camera, which many of its peers fail to match.
Read our Olympus XZ-2 review
Panasonic LX7
Price: £330/AU$600/US$450
Specs: 10.1MP sensor, 3.8x zoom, 24mm wide angle, full manual control
The Panasonic LX7 only has the same 10.1MP resolution of the preceding Panasonic LX5. However, the new model boasts a redesigned, high-sensitivity CMOS image sensor that claims better dynamic range and increased low-light performance.
Around the front there's direct control for aperture, thanks to a retro-style aperture ring on the lens. On-lens adjustments are also available for focusing modes and image aspect ratios. Up on top, there's a fully-featured shooting mode dial that includes 'intelligent' auto, access to scene modes, manual PASM controls and two custom shooting settings.
The f/1.4-2.3 zoom lens gives an effective 24mm wide-angle focal length. The downside is that it's only a 3.8x zoom and is lacking at the telephoto end, equivalent to just 90mm.
Read our Panasonic LX7 review
Ricoh GR Digital IV
Price: £435/US$550 (around AU$665)
Specs: 10MP CCD sensor, 28mm (equiv) f/1.9 lens, 1,230,000 dot 3-inch LCD screen
A pocketable camera with a high quality lens, equivalent to a 28mm lens on a 35mm camera, and a fast f/1.9 maximum aperture. The GR Digital IV follows in Ricoh's tradition of producing high quality compact cameras that are ideal for street photography.
Despite the compact dimensions, manual controls are easily accessible and a 3-inch LCD screen with an extremely high resolution of 1,230,000 dots has been squeezed onto the rear. Images can be shot in raw formats too.
Strangely Ricoh hasn't followed the trend of including HD video capability, the GRD IV will record video, but only at VGA resolution.
Read our Ricoh GR Digital IV review
Ricoh GR
Price: £600/US$800/$AU800
Specs: 16.2MP APS-C format CMOS sensor, 28mm (equivalent) lens, 3-inch 1.2 million-dot LCD screen
With the GR Ricoh has done what everyone thought it should've done when it revealed the Ricoh GRX compact system camera and unveiled a small compact camera with an APS-C format sensor.
Like the Nikon Coolpix A, the GR has a sensor without an anti-aliasing filter. This should enable it to record sharper details in camera.
Although the Ricoh GR's focusing speed seems pretty good we have reservations about the write times of raw files, but we hope to be reassured when we get a full production sample in for testing.
Read our hands on Ricoh GR review
Samsung EX2F
Price: £260/$395/AU$450
Specs: 12.4MP, 1/1.7-inch CMOS sensor, 3.3x optical zoom, 1080p video, 3-inch, 614,000 dot variangle screen
The Samsung EX2F improves on the Samsung EX1 by adding Wi-Fi capability for easy image sharing, boosting the pixel count from 10MP to 12MP and increasing the maximum aperture of the 24-80mm (equivalent) lens from f/1.8 to f/1.4.
Two dials on the top of the camera make selecting the shooting mode and changing key settings such as the drive mode very quick and easy. The function (Fn) provides a quick route to most other important features.
Our tests found that the Samsung EX2F is a very capable compact camera that delivers high-quality images with plenty of detail at the lower sensitivity settings, and natural colour. It's Wi-Fi connectivity is also well integrated so its easy to set up and use. You can share images on Facebook in next to no time.
Read our Samsung EX2F review
Sony RX1
Price: £2,600/US$2,800/AU$3,000
Specs: 24.3MP Xmor CMOS full-frame sensor, 35mm f/2.0 Carl Zeiss T* coated lens, Full HD video
On the Sony RX1, the manufacturer has stashed a 35mm format full-frame sensor and a fixed length, 35mm f/2.0 Carl Zeiss T* coated lens inside a compact body. It also features a new Bionz processor, which enables Full HD video recording and sensitivity capabilities from ISO 50 to ISO 102,400.
The Sony DSC-RX1 produces superb images, with a fantastic amount of detail, colour and dynamic range. It really is the best image quality you'll get in something of this size. Of course, you'll have to be prepared to pay a lot for this ultimate combination of quality and portability, not just in terms of asking price, but also in terms of inflexibility.
Read our Sony RX1 review
Sony RX100
Price: £480/US$650/AU$680
Specs: 20.2MP Exmoor CMOS sensor, 3.6x zoom, 1080p video, Bionz processor, f/1.8-4.9 lens
Though it's a relative small compact camera, the Sony RX100 has a larger than average sensor. In fact its 20.2MP 1-inch CMOS device is the same physical size as the one in the Nikon 1 V1 and Nikon 1 J1, which are compact system cameras.
We love the build quality of the RX100 and it provides all the controls that demanding enthusiasts expect, plus the ability to record raw files. We especially like the control ring around the 28-100mm (equivalent) f/1.8-4.9 lens that can be used to adjust a selection of features including aperture.
Our tests reveal that the RX100 performs well across the sensitivity range (ISO 125-6400) and it produces, bright punchy images that aren't excessively vibrant.
Read our Sony RX100 review
Best superzoom and bridge cameras
You might also like...
What is a bridge camera?
Sometimes you don't want to lug around a DSLR and an assortment of lenses - you want one camera and one lens that does it all.
This means a feature set that cherry picks the best that a typical DSLR has to offer, including manual control and preferably the ability to shoot in raw format as well as JPEG, along with a lens that offers a very broad focal range, so it won't matter that it can't be swapped.
Enter the superzoom camera, also known as an ultra zoom or bridge camera - so called because it bridges the gap between a point and shoot compact and an all bells and whistles DSLR, in terms of handling and feature set, at least.
Superzoom build
For this reason, superzooms tend to closely resemble DSLRs in terms of look, build and - to an extent - handling, but feature smaller image sensors and, partly because of this, afford physically smaller lenses.
While not a replacement for a DSLR then, the advantage here is that the cameras can offer a very broad focal range; one that, if you were to try and achieve similar with a DSLR, would make for a prohibitively expensive and awkwardly unwieldy combo.
The larger physical size of a bridge camera or superzoom when compared with a snapshot camera may deter some, but there's a lot more creative versatility here in terms of framing choices. A case in point: many models also offer tilt and swivel LCD screens as well as optical or electronic viewfinders. Again, with a bridge camera there is more choice and more options for the photo enthusiast.
So if you are after one jack-of-all-trades digital camera - either instead of a DSLR, or perhaps as a less expensive back up - and you value convenience and flexibility as much as image quality and pixel count, then a bridge or superzoom camera could be your ideal companion. So here we're shining the spotlight on the best of some recent releases.
Sony Cyber-Shot DSC-HX300
Price: £325/US$430/AU$550
Specs: 20.4MP 1/2.3-inch CMOS sensor, 50x zoom with 24-1200mm (equivalent) focal length, 1080p video
There's a lot to love about the Sony. It has a class-leading 20.4Mp image resolution, a fast 10fps burst rate, generous 30-1/4000th-of-a-second shutter-speed range and a big 50x zoom range (24-1200mm equivalent).
It has clever tricks too. For example, as well as a two-speed powered zoom lever by the shutter button, you can also adjust the zoom and focus settings via a control ring on the lens barrel. This alternative zoom method is still motor-controlled but enables greater precision in adjustments.
Further highlights include a high-res 921k pixel LCD that also boasts a tilt facility.
It's good for shooting from very high or low perspectives, either holding the camera above your head or for shooting from ground level without getting muddy knees. However, unlike some Sony tilt screens, it doesn't flip over completely to help with self-portraits.
In other areas, the Sony comes up a bit short. It does have an electronic viewfinder but the unspecified resolution seems pretty poor, on a par with the Canon and Panasonic cameras.
A more surprising shortcoming, given the otherwise advanced collection of creative shooting modes and high-end features, is that 'stills capture' is a JPEG-only affair, without the ability to shoot in raw. There's also no hot shoe, so you're stuck with the fairly minimal power of the pop-up flash.
Back on the plus side, handling is very good overall, with a high-quality build and quick access to plentiful shooting parameters.
Performance
Impressive in most areas, performance benefits from effective autofocus and metering even in tricky conditions.
The optical stabilizer matches those of other cameras in the group, giving consistently sharp handheld images under decent lighting, even at very long zoom settings.
The only real upset is that image noise can be very noticeable in low-light shots, even at the lower end of the ISO range.
Fuji FinePix HS50 EXR
Price: £350/US$450/AU$510
Specs: 16MP 1/2-inch EXR CMOS II sensor, 42x optical zoom with 24-1000mm (equivalent) focal length, 1080p video
Compared with some competitors in the group, the Fujifilm is a real hunk of a camera. It's got a big, beefy body and, unlike some, the lens doesn't retract when the camera is switched off.
Big isn't necessarily bad, however, and the camera feels wonderfully natural with superb handling. It can't quite match the leaders in the group for outright zoom range, but the 42x lens still gives the equivalent of a mighty 24-1000mm span of focal lengths.
Not only does the Fujifilm have an electronic viewfinder, but it's of considerably better quality than any of the other cameras on test, with a super-sharp 920k pixel display. Composition and manual focusing are all the easier for it.
Along with a plethora of basic and advanced shooting modes, both raw and JPEG quality options are available.
Battery life is similarly impressive, with 500 shots available from a full charge, where most competing cameras only last for about 300 shots.
There's no power zoom facility but, in practice, the smooth and precise manual zoom and focus rings on the lens enable greater precision, without the constant danger of overshooting the mark and having to yo-yo back and forth. Like only the Canon in this group, the LCD is fully articulated so gives a complete range of pivot functions.
Performance
Autofocus is a bit special; the hybrid phase/contrast system doing better than the contrast-detection systems of competing cameras to track moving targets.
Continuing the speed theme, there's a fast 11fps drive rate available, which increases to 16fps if you limit yourself to medium-sized JPEG capture.
In the standard sensitivity range of ISO 100-3200, noise is well controlled and there's excellent retention of fine detail, even at very high ISO settings. Ultra-high sensitivities of up to ISO 12800 are available in expanded mode, if needed.
Kodak PixPro AZ521
Price: £250 (around US$390/AU$425)
Specs: 16.38MP 1/2.3-inch CMOS sensor, 52x zoom with 24-1248mm (equivalent) focal length, 1080p video
One of the first launches from new Kodak camera brand license holder JK Imaging hits the ground running by virtue of boasting a 52x optical zoom and requisite DSLR-styling for a budget price. This comes coupled to a 16.38 effective megapixel 1/2.3-inch CMOS sensor.
Gone is the former 'EasyShare' series branding, so now in its place we have the more serious-sounding 'PixPro'.
OK, so we don't get a tilting LCD screen, Wi-Fi or built-in GPS here, but it's really all about that lens, in offering an ultra-broad focal range of 24-1248mm in 35mm terms and maximum f/2.8 aperture.
Like the Sony HX300, it's possible to get clear results very near maximum zoom when shooting handheld, though here it requires a couple of shots to be on the money. However, when shooting wide, detail and colours are as well refined and saturated as you'd expect of any device bearing a Kodak logo. It's a surprisingly good first effort.
Nikon Coolpix L820
Price: £190/US$200/AU$300
Specs: 16.79MP 1/2.3-inch back illuminated CMOS sensor, 30x zoom with 22.5-675mm (equivalent) focal length, 1080p video
Photographers who use Nikon SLRs are usually rewarded with a wealth of shooting options and customisable functions, available through almost-endless scrolling menus.
The L820 is an entirely different proposition and really quite basic in operation.
You don't have to be eagle-eyed to spot the lack of a shooting mode dial and, indeed, there are no aperture-priority, shutter-priority or metered manual modes.
Instead, you're limited to 'auto', 'easy auto', 'smart portrait', and a number of scene modes and filter options. If you like being in control, it can feel a bit limiting. For example, the only way to get a shutter speed slower than one second is to switch to the 'fireworks' scene mode. At the other end of the scale, shutter speed tops out at just 1/1500th of a second.
Sensitivity only reaches ISO 1600 in the standard range, and ISO 3200 in expanded mode.
Other areas which might be disappointing for accomplished photographers are the lack of a viewfinder or hot shoe and the absence of raw capture.
On the plus side, the Nikon is very compact, helped by the retracting lens which tucks away when the camera is switched off. Then again, the 30x zoom range is the smallest in the group.
With an effective 22.5-675mm focal length range, it's quite generous at the wide-angle end, but loses out for long telephoto shooting. Zooming itself can be a bit hit and miss. Unlike the Canon, Panasonic and Sony cameras, there's just a single-speed (and reasonably fast) power-zoom mechanism which can make precise adjustments a real frustration.
Performance
The Nikon redeems itself somewhat when it comes to image quality, which is generally very good even under dull lighting conditions.
Autofocus isn't particularly rapid but it copes better in tricky conditions than Nikon's high-end Coolpix P7700 compact camera, which we reviewed back in issue 139.
Read our Nikon Coolpix L820 review
Canon PowerShot SX50 HS
Price: £350/US$430/AU$475
Specs: 12.1MP 1/2.3-inch CMOS sensor, 50x zoom with 24-1200mm (equivalent) focal length, 1080p video
Slightly smaller and lighter than competing cameras that also feature an electronic viewfinder, the Canon nevertheless boasts a 50x zoom lens, equivalent to 24-1200mm in range.
As one of Canon's 'HS' series cameras, it's intended to give good performance in low lighting conditions, which is why its image resolution is relatively modest. As such, the camera is fitted with a 12.1MP image sensor, whereas most others in the group are between 16MP and 20.4MP.
The shooting mode dial is packed with wide-ranging scene modes, a full complement of PASM shooting modes, special effects aplenty and two user-defined custom settings. Further direct access controls around the back make it quick and easy to get to important shooting parameters.
Further attractions include a fully articulated LCD screen and a hot shoe for mounting an optional flashgun.
Ultimately, it really does feel like a 'proper' camera. By contrast, the low-resolution electronic viewfinder is a bit lacking in clarity.
With the immense telephoto reach on offer, one nice touch is the pair of buttons on the side of the lens barrel. These enable you to instantly zoom out if you lose a target at extremely long focal lengths, reacquire it, then zoom back in again to take the shot.
For normal operation of zoom, there's a two-stage lever which enables both slow and fast action. The ability to shoot in raw mode as well as JPEG is another plus point for the Canon.
Performance
True to its low-light claims, image noise is well controlled and the longest available shutter speed is better than most, at 15 seconds.
Maximum burst rate is a bit pedestrian at 4.1fps (frames per second) but you can boost this to 13fps if you don't need autofocus after the first shot in a sequence.
Sharpness is good throughout the zoom range and the optical image stabilizer works well.
Read our Canon PowerShot SX50 HS review
Olympus SP-820UZ
Price: £180/US$230/AU$360
Specs: 14MP 1/2.3-inch CMOS sensor, 40x zoom with 22.4-896mm (equivalent) focal length, 1080p video
Olympus' flagship AA battery-powered bridge/superzoom camera succeeds the SP-810UZ and delivers a 40x optical zoom (as opposed to its predecessor's 36x) with an equivalent focal range of 22.4mm to 896mm.
This ensures that it's the bridge model starting out the widest in the current market. Said zoom comes supported by dual image stabilisation, low light sensitivity up to ISO 6400, plus Olympus' Multi-Motion Movie IS for steady results even if walking while filming.
Like all the others here, we get a 3-inch LCD screen, offering up a 460k-dot resolution, plus a 1cm macro option. Sequential shooting is offered up to 10fps, though at three megapixels, but what makes this model stand out from the crowd is the 10 Magic Filters onboard, digital effects that include the less familiar day-glo 'pink' option along with Miniature and Pop Art.
Compatibility with wireless Eye-Fi media cards and 43MB internal memory round off the package, but really it's all about that zoom.
Fuji FinePix SL1000
Price: £270/US$300/AU$375
Specs: 16MP 1/2.3-inch CMOS sensor, 50x zoom with 24-1200mm (equivalent) focal length, 1080p video
Classic DSLR styling aside, the main talking point here is the Fuji SL1000's whopping 50x optical zoom. This offers the equivalent focal range of an ultra wide 24-1200mm on a 35mm film camera of old, with an f/2.9 maximum lens aperture for low light/shallow depth-of-field shots.
Add to this a tilting 3-inch, 920k dot LCD screen, back-illuminated 16 megapixel sensor - even if it's a small-ish 1/2.3 inches - plus ISO 12800 maximum light sensitivity and the ability to shoot raw as well as JPEG files.
There's also an EVF, activated via an ultra-responsive eye sensor. An enthusiasts' dream perhaps, yet one with budget pricing? We thought so, despite a few handling niggles.
Image quality was excellent overall (for a bridge model) even if, as expected, we see noise intruding into shots from ISO 800 upwards.
Read our Fujifilm FinePix SL1000 review | Compare the best prices
Nikon Coolpix L320
Price: £150/US$200/AU$230
Specs: 16MP 1/2.3-inch CCD sensor, 26x zoom with 22.5-585mm (equivalent) focal length, 720p video
Baby brother to the Nikon L820, this 16 megapixel 1/2.3-inch CCD sensored camera doesn't field as broad a focal range as some superzooms - and in present company a 26x reach reads as modest. Nevertheless, this does provide a creatively comprehensive 22.5-585mm equivalent reach in 35mm terms.
Again the design hints at its maker's acclaimed DSLR range, and all for a relatively low asking price.
That budget buys us a camera with a top light sensitivity setting of ISO 1600 and fixed 3-inch LCD screen with 230k dot resolution, and while there's no Wi-Fi built in, the Nikon L320 is compatible with Eye-Fi X2 wireless cards.
In a nutshell this is an above par entry-level superzoom that should suit anyone on a small budget shooting JPEG-only files, who requires the power of a big lens reach.
Best travel compacts
Nikon Coolpix S6400
Price: £160/US$150/AU$230
Specs: 16MP CMOS sensor, 12x optical zoom , Full HD video
The Nikon Coolpix S6400 appears to have just about everything you want from a digital compact camera of its class. With a 12x optical zoom, 3-inch 460,000-dot touchscreen, 16 megapixel backlit CMOS sensor, Full HD video recording, a host of direct controls, 20 scene modes, small, lightweight body and a modest price tag, what more could you ask for?
The Nikon S6400 does a number of things pretty well and offers a lot of flexibility, from its wide range of creative filters to its responsive touchscreen, accurate AF system on down to the all-important thing: great image quality.
Read our Nikon Coolpix S6400 review
Canon PowerShot SX260 HS
Price: £200/US$300/AU$300
Specs: 12MP CMOS sensor, 20x image stabilised optical zoom, 1080p video, GPS
Sporting a 20x zoom lens offering an angle of view equivalent to a 25-500mm lens on a 35mm camera, the Canon PowerShot SX260 HS should be very well equipped for those who wish to travel light. A 12MP rear-illuminated CMOS sensor, coupled with the latest DIGIC 5 image processor, enables this camera to take great quality images, even in low light. The image stabiliser system will also help with taming camera shake when shooting at low shutter speeds.
Full HD video can be recorded and output via the built-in HDMI interface and global positioning information can be recorded for sharing on image and video sharing websites. Advanced photographers will also appreciate the inclusion of manual exposure options, whereas a wide range of automatic shooting options are also included for those who are less technically inclined.
The Canon Powershot SX260 HS sweeps our Best mid-range compact camera trophy.
Read the Canon SX260 HS review
Sony Cyber-shot HX20V
Price: £250/US$380 (around AU$380)
Specs: 18MP CMOS Sensor, 20x optical zoom, 1080p video at 50fps, GPS
An 18MP Exmor R sensor promises excellent quality low light images, despite the relatively high resolution. A 20x optical zoom lens providing an angle of view equivalent to a 35-500mm lens on a 35mm camera should cover most photographic situations when travelling.
High quality Full HD 50p videos can be recorded, and a GPS function is included for tagging images with your position. Plenty of artistic picture effects and easy creative options are also included to get your creativity flowing.
Read our Sony HX20V review
Olympus SH-25MR
Price: £140/US$250/AU$260
Specs: 16MP CMOS sensor, 12.5x zoom, take still images while recording HD video, dual Image Stabilisation
Although a 12.5x zoom range may seem quite modest when compared to other travel compacts on offer, the 24mm wide angle will certainly be handy for shots in cramped conditions, or large buildings you may encounter on your travels.
Just like many other travel-orientated compact cameras, GPS tracking is included and a rear-illuminated 16MP CMOS sensor should provide decent quality in low light conditions.
Unique to this camera is the ability to take still images at the same time as recording video clips, enabling you to capture high quality stills to complement your high definition video.
Read the Olympus SH-25MR announcement
Panasonic Lumix TZ30/ZS20
Price: £240/US$270/AU$330
Specs: 14.1MP CMOS sensor, 20x optical zoom, 1080p HD video, touchscreen interface, 3D still images
The Panasonic Lumix TZ30 (or Panasonic Lumix ZS20 in the US) replaces the TZ20 (ZS10) as Panasonic's flagship TZ camera and pushes the zoom range from 16x to 20x, with a focal length equivalence of 24-480mm.
In other respects the TZ30 is very like the TZ20 having the same touchscreen LCD display, GPS technology and a raft of automated shooting modes as well as more advanced options for experienced photographers.
However, HD video can be shot in 1080p at 50 frames per second rather than the TZ20's 1080 interlaced. And, although the sensor is still a 14MP 1/2.33-inch device, it has been redesigned to produce cleaner images across the sensitivity range. There's a lot packed into this relatively small camera.
Read our Panasonic TZ30 review
Fujifilm FinePix F770 EXR
Price: £180/US$200/AU$260
Specs: 16MP EXR CMOS sensor, 20x optical zoom, ISO 12,800, 1080p video, 8fps high speed continuous shooting
If you've ever struggled to capture the perfect shot of Minky The Whale jumping through a hoop at Sea World, then the Fuji F770 EXR has the solution. It is capable of taking full resolution shots at a blistering pace of eight frames per second, and if you wish to share where the image was taken via popular image sharing services, GPS information can be recorded too.
The rear-illuminated 16MP EXR CMOS sensor has a few tracks up its sleeve too. It can be optimised to take high resolution 16MP images, or images with improved dynamic range at reduced resolution.
By combining neighbouring pixels, sensitivities of up to ISO12,800 are also possible, making this camera ideal for shooting with in adverse conditions.
Read the Fujifilm FinePix F770 EXR review
Best waterproof and rugged cameras
Rugged or waterproof compact cameras allow you to take photographs in places that you wouldn't dare use a normal camera. They are a great choice for beach holidays and ideal for families with children that might want to have a go at taking a photograph. Here are some of the best around.
Panasonic FT5/TS5
Price: £300/US$398/AU$400
Specs: 16.1MP 1/2.33-inch High Sensitivity MOS sensor, 4.6x optical zoom (28-128mm equivalent), 1080p HD video, 3-inch screen
One of the higher-priced rugged compact cameras, the Panasonic FT4 is a feature-packed compact with a superb level of protective attributes. Waterproof to a depth of 12m, the Panasonic Lumix FT4 enables you to explore greater depths than with many if its competitors, plus it's shockproof if dropped from a height of up to 2m, and freeze-proof down to -10C (14F).
Built-in GPS, plus a compass, altimeter and barometer all add to the Panasonic Lumix FT4's appeal for adventure-bound photographers, while Full HD movie recording and a respectable all-round image performance makes this a decent choice for active families in search of a reliable camera, with the ability to take more punishment than your average compact.
Read our Panasonic FT5 review
Sony Cyber-Shot TX30
Price: £280/US$350/AU$450
Specs: 18.2MP 1/2.3-inch Exmor R™ CMOS sensor, 5x optical zoom (26-130mm equivalent), 1080p HD video, 3.3-inch touch-sensitive OLED screen
Believe it or not, the TX30 is waterproof and shockproof to the tune of 10-metre depths and 1.5-metre drops. It's also freeze and dustproof, yet you get all this toughness in a case with around half the bulk and twice the style of your average rugged camera.
However this super-sleek styling also means it's tough to hold on to when underwater or wearing gloves. In these scenarios the touch-sensitive screen is another irritation as it'll only work when dry and operated by bare hands. Thankfully the camera's advanced automatic modes do a great job of capturing decent shots without your help.
Despite its diminutive dimensions the TX30 is big on image quality, with good detail and dynamic range. Close-up shots also look the part thanks to the nifty Magnifying Glass macro mode with LED illumination.
If you're after a high-performing tough camera that doesn't sacrifice style, look no further.
Nikon Coolpix AW110
Price: £240/US$270/AU$400
Specs: 16.0MP 1/2.3-inch CMOS sensor, 5x optical zoom (28-140mm equivalent), 1080p HD video, 3-inch screen
Divers and mermaids rejoice, as this new Nikon will handle underwater excursions as deep as 18 meters. Freeze it to -10°C or drop it from up to 2-metres and it'll also pull through unscathed.
And the features keep on coming. There's GPS equipped with a world map to chart your snaps, as well as a landmark database and compass to help you take more. Wi-Fi with remote camera control is present too, as is an altimeter and barometer to keep you posted with height and depth data.
It's not all plain sailing though, as the AW110 falls short where it matters most. Image detail is prone to smoothing at all sensitivities, and when you ramp up the ISO, expect some grain and colour speckling.
Fortunately the quality isn't significantly lower than similar cameras, yet the AW110's price tag is, making it great value if you avoid pixel-peeping too much.
Olympus TG-2
Price: £280/US$380/AU$500
Specs: 12.0MP 1/2.3-inch CMOS sensor, 4x optical zoom (25-100mm equivalent), 1080p HD video, 3-inch screen
The TG-2 takes its toughness seriously, with well-sealed, double locked access points and an exceptionally rugged casing that's waterproof down to a respectably deep 15m.
It packs plenty of features too, like GPS, a nifty super-macro mode and also the ability to mount a separate teleconverter or fish eye lens up front. But it's the lens' impressively large f/2.0 aperture and aperture priority modes that really give the TG-2 an edge over the competition.
Image quality doesn't disappoint either. The camera excels in producing rich colours with accurate exposure and contrast. Whilst detail is also impressive from close-range subjects, some smearing is evident in out of focus areas, which can show up in larger prints.
Other annoyances include fiddly controls if you're wearing gloves and a pathetic panorama function. It's also a bit bulky, but otherwise the TG-2 is a good balance of features, image quality and toughness.
Read our Olympus TG-2 review
Fuji XP200
Price: £200/US$250/AU$375
Specs: 12.0MP 1/2.3-inch CMOS sensor, 4x optical zoom (25-100mm equivalent), 1080p HD video, 3-inch screen
Fuji's latest ruggedised offering has a lot in common with the Nikon AW110. It's nearly as waterproof with its 15-metre depth rating and features a similar knob and locking button arrangement to seal its battery card compartment without resorting to fiddly clips.
The XP200 is far easier to cling on to than the Nikon though, thanks to a rubberised back panel and grippy, ribbed edges. The controls are also large and the screen exceptionally crisp and bright. It all comes together to make this the easiest camera of the bunch to use when you're in the thick of the action.
It's a pity image quality isn't as impressive, with slightly more noise and detail smoothing than some rivals, but it's not the XP200's biggest issue.
That honour goes to the downright dire 9cm macro mode, which is the only major flaw in what's otherwise a well designed and capable camera.
Pentax WG3/WG3-GPS
Price: £300/US$350
Spec: 16.0MP 1/2.3-inch CMOS sensor, 4x optical zoom (25-100mm equivalent), 1080p HD video, 3-inch screen
The WG-3 GPS sits atop Pentax's tough camera hierarchy, sporting a maximum ISO 6400 sensitivity and sensor-shift image stabilisation. Allied to the rapid autofocus system, it's easy to capture low light and action snaps free from motion blur.
However, image quality could be improved, as it suffers from high ISO image noise and detail smoothing throughout the sensitivity range.
Optically the camera fares better, with a wide-aperture f/2.0 lens meaning you won't have to resort to high sensitivity settings too often. Circling the lens are 6 small LEDs to illuminate extreme close-up shots in Digital Microscope mode.
Put the WG-3 through some rough and tumble and it should survive intact thanks to reassuringly rugged build quality and well-secured openings. Wireless Qi charging on the WG-3 GPS further reduces the chances of dust or water ingress.
Better finger and thumb grips wouldn't go amiss though, for when the going gets frantic.
Canon PowerShot D20
Price: £260/US$290/AU$300
Specs: 12.1MP 1/2.3-inch CMOS sensor, 5x optical zoom, 1080p HD video, 3-inch screen
Canon's rough-and-ready PowerShot provides a good range of beginner-friendly photography features, as well as advanced camera technologies. Along with intuitive point-and-shoot modes, there's a selection of underwater shooting options to make aquatic photo capturing a stress-free experience.
Some handling issues – both underwater and on dry land - take a bit of the shine off this camera's overall performance though. General operation can be sluggish, with relatively slow focussing, shutter lag and recycle times. But what this compact lacks in speed, it makes up for in image quality.
The camera produces consistently well-exposed, detailed images, which combined with substantial build quality and additional features such as built-in GPS and Full HD video mode broaden the Canon D20's appeal.
The D20 certainly has a lot to offer, but if you're after an everyday rugged all-rounder, some similarly priced rivals may offer a more comprehensive package.
Read our Canon PowerShot D20 review
Best all-rounder cameras
Nikon Coolpix S3300
Price: £85/US$90/AU$110
Specs: 16MP CCD sensor, 6x optical zoom, 720p HD video, 2.7-inch screen
This slim, metal bodied camera has a 6x optical zoom lens squeezed into a body only 19.5mm thick, which makes it ideally pocketable. The 16MP CCD sensor should provide ample resolution for producing large prints, and the Vibration Reduction system will help to tame camera shake.
Plenty of automatic features are provided to aid creativity without oodles of technical know-how. A set of 18 scene modes cover camera settings for common picture taking scenarios, and the Smart Portrait System provides a plethora of automatic detection technologies to enable foolproof people pictures.
Canon IXUS 230 HS/Canon ELPH 310 HS
Price: £180/US$375 (around AU$275)
Specs 12.1MP CMOS sensor, 8x image stabilised zoom, 720p HD video
This slim, stylish, metal bodied camera sports an Image Stabilised 8x zoom lens and delivers excellent quality images, even at high ISO sensitivities thanks to the implementation of Canon's HS system. The same 12.1MP CMOS sensor and DIGIC 4 processor found in other Canon HS cameras work together to produce cleaner, sharper images, fast response times and good dynamic range.
Being an IXUS, it is designed with point and shoot photographers in mind and is very simple to get to grips with. 720P HD videos can be recorded via the direct recording buttong on the rear and a selection of art filters expand creative opportunities.
The Canon IXUS 230 HS wins our Best entry-level compact camera award.
Read our Canon IXUS 230 HS review
Samsung PL120
Price: £100/US$190 (around AU$150)
Specs 14.2MP sensor, 5x optical zoom, 26mm wide angle, dual image display
This budget marvel has an extra 1.5-inch LCD screen on the front, to aid taking self portraits. This is a great feature for those travelling on their own, or as a couple who might be a little scared to trust a stranger with their gadgets when trying to take a picture with themselves in it. It can also show animations to keep little ones' attention when you switch on the Children mode
A comprehensive range of image effects, a video mode and an in-camera editing function all add to what is a very fun camera to use, for a very reasonable price.
Read our Samsung PL120 review
digital cameras camerasbuyingguide-en-au camerasbuyingguide-en-gb cameraspromo-en-au cameraspromo-en-gb camerasrecommended-en-au camerasrecommended-en-gb vertical_links_box-en-gb