Will the Amazon smartphone come to customers free of charge?
6th Sep 2013 | 21:01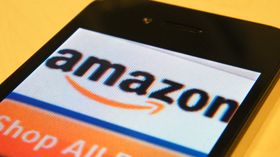 Strings very likely attached
The Amazon phone is the device everyone knows is coming - it's just a matter of the etailer confirming the darn thing exists.
While we are no closer to Jeff Bezos admitting his company has a handset cooking, new details out today reveal that when the handset does launch, Amazon may offer it free of charge.
In a report on Jessica Lessin's blog, she and fellow former Wall Street Journal reporter Amir Efrati reveal that according to people familiar with the matter, Amazon is looking into launching its phone for free, though details of how this would work are still very murky.
One catch to this unprecedented move could be a requirement to sign up for an Amazon Prime membership.
While sources are unsure Amazon could pull off a free device, the company apparently wants consumers to have access to the phone regardless if they sign up for a new wireless plan concurrently. Carriers will often discount phones when customers opt for a new agreement.
Holy free-joles
Amazon has reportedly spoken with carriers about offering its handset, however it stands to reason it would also sell the device via its own online retail channel.
A free Amazon phone is far from a done deal, and a number of factors, including working out financial Xs and Os with hardware partners, could affect the plan.
Reports of the Amazon phone stretch as far back as two years ago, but the company has reportedly had a time of it finding hardware partners not already committed to pumping out Android devices.
Amazon has a line of tablets and ereaders, and is expected to launch a refreshed Kindle Fire HD 2, among other products, before the holidays. The Amazon phone release date remains a mystery, but it will likely run a forked version of Android, much like Kindle tablets.
If Amazon does successfully launch a free device, it could severely undercut hardware giants like Apple and Samsung. Apple is expected to launch a "cheap" iPhone 5C on Sept. 10, but Amazon's free phone could potentially snare that market share.
Like Google, Amazon's primary profits come not from hardware but from another core business (e-commerce for Amazon, online ads for Google). Unlike Apple and Samsung, Amazon can take a hit from a free phone in order to grab customers, especially in developing countries.
Amazon Amazon phone Amazon smartphone free phone Apple iPhone 5C Samsung Google Android