Mobile World Congress 2010: the winners and losers
21st Feb 2010 | 12:30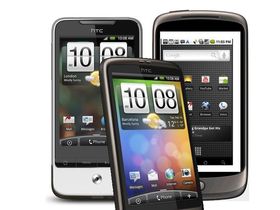 Who came up with the goods and who disappointed?
Mobile World Congress: The Winners
As usual, we were treated to a plethora of top end mobile phones in Barcelona this year, and some real beauties were unveiled, with the companies behind them reaping the rewards.
But for every action in the mobile world, it appears there has to be an equal and opposite reaction, with a few surprisingly big names disappointed us too – we look at the highs and lows of Mobile World Congress 2010.
The winners
HTC
Come on, this one was a gimme. Any company that can have as successful a year in 2009 with the Magic, Hero and HD2 and follow it up with even more hot handsets has to be one of the success stories.
The technology media has gone gaga over the new Android-powered HTC Legend and Desire – so much so that we're even seeing people with little interest in technology asking us whether they should wait to buy these phones – something usually only the iPhone manages.
Couple that with a beautifully short time to market after announcement – less than a month in some cases – and HTC has clearly come up smelling of roses this year.
Google
While you'd think this was because Google has just released its own phone – that's actually not the reason for inclusion here (and not just because HTC seems to have nabbed the praise for the Nexus One).
No, we're talking about a couple of other points – first up, the success of Android. So many phones at MWC 2010 were released based on this platform: the HTC Legend and Desire, the Motorola Quench, the Sony Ericsson X10 Mini and Mini Pro.
Heck, even Alcatel got involved with the OS – and that's shows something.
Add to that CEO Eric Schmidt's well-received keynote (Flash for Android, text recognition and a huge movement from the company into mobiles), and you can see that Google seems set to make a successful transition into the mobile space at just the right time.
Microsoft
We'll admit it – we didn't think that we would be writing about Ballmer's Brigade in this year's winners category, after the previous incarnations of Windows Mobile filled us with complete indifference.
But Windows Mobile 7 (or Windows Phone 7 Series as it's more annoyingly called) is the product of Microsoft going back to the drawing board and having a think about what's needed for the current mobile user.
The company seems to have finally realised that the consumer market is as important as the business one – and WinPho 7 seems to have taken the best of both worlds.
Admittedly, it's months away from release, but we were very impressed by the likes of living tiles, high resolution screens and top end manufacturing partners.
Jobs probably ain't worried, but Microsoft made some great strides in the mobile market at this year's event.
Mobile World Congress: The Losers
The losers
Nokia
The Finnish company is something of a conundrum at the moment – declining market share is a real worry for any company, but it seems Nokia isn't intent on sorting it out in the short term.
Not taking a stand at the MWC 2010 event seemed a little odd, especially when it took over a whole building just down the road – but more irritating was the press conference.
Leaving hundreds of journalists waiting half an hour to get a badge was bad enough, but when it turned out to be to a press conference revealing no new handsets, it was hard to see what all the fuss was about.
Nokia and Intel did announce they were combining their operating systems to make MeeGo, but that's hardly an earth shattering revelation that will change the course of mobiles in 2010.
We know the Finns usually save the big guns until Nokia World, and the MeeGo announcement might be big in a few years time – but the company's presence at MWC this year felt like a huge anti-climax.
Motorola
While it might seem odd to include this company in the losers category, especially when it has released so many phones recently, it's Motorola's lack of UK interest that bothered us.
Despite showing EIGHT new handsets from the last six months, we've only seen two released on our shores, the Dext and Milestone (and the latter's not even available from a network).
The brand seems to be showing a complete apathy to the UK by not announcing any further phones for our region – the best we got was the Motorola Quench, announced for Europe next month, but that's no guarantee it will be coming here.
After seeing the bevy of technology on offer for other countries (FYI Motorola, we would love the 720p-recording, 8MP-snapping, HDMI-pumping Motoroi over here) it just feels like a shame that a company that's enjoying such a welcome renaissance should ignore this key market.
LG
Like Nokia, LG decided not to exhibit at this year's show – although it did take a pavilion as near as could be to the fences of the MWC event.
And it also announced a couple of new phones for Europe too – the LG Mini and the Android-powered GT450.
But despite being a sponsor of the event, the company was largely invisible thanks to a very small press window at 8AM to come and see the phones – not really whipping the world's media into a frenzy over the latest handsets.
It's not so much because of what LG brought to the show that we've put it in this category, but more the missed opportunity – Korean rival Samsung had its largest ever stand at the event, and the absence of LG was noticeable.
We've no doubt what was shown off will be a success, but we would have liked to have seen more of a fanfare for a company that has real designs on being one of the top mobile manufacturers for many years to come.
MWC2010 Android HTC Motorola HTC Desire HTC Legend Sony Ericsson Xperia X10 Nokia LG Microsoft