Galaxy S5 could have 16-megapixel camera from either Sony or Samsung
21st Oct 2013 | 22:11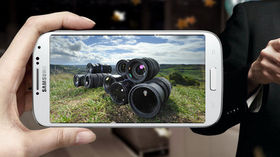 ISOCELL technology could be part of the next Galaxy phone
Samsung is reportedly committed to upgrading the Galaxy S5 with a 16-megapixel camera, but the unresolved choice of a camera supplier may be coming down to two companies.
Sony and Samsung LSI - a division of the South Korean electronics giant - are vying for the job of making the camera for the company's next flagship smartphone, according to ETNews (via Unwired View).
That means the Galaxy S5 camera work could once again be farmed out to Sony, which currently manufactures the 13-megapixel sensor inside the Galaxy S4.
It also happens to supply the new iPhone 5S with its 8-megapixel camera sensor that's 15% larger than the one in the iPhone 5.
Sony certainly has the most experience with tiny but powerful camera sensors that fit into the tight confines of a smartphone.
The Samsung advantage
Samsung LSI, on the other hand, obviously benefits from the fact that it's part of the South Korean conglomerate. This could lead to more flexibility and cheaper prices.
More than any overhead-related perk, though, Samsung has the advantage of ISOCELL.
ISOCELL is supposed to substantially increase light sensitivity and offer higher color fidelity even in poor lighting conditions. That's pretty much half of the photos taken with smartphone cameras these days.
To get on-the-spot news, app tips and the full lowdown on Samsung's latest mobile announcements check out Samsung's
Your Mobile Life
on TechRadar.
The first Samsung image sensor with ISOCELL is the S5K4H5YB, which is being planned for the end of the year. It's only 8 megapixels, so the company would need to double its efforts rather quickly.
But ISOCELL combined with a 16-megapixel camera would be difficult for Samsung's competitors to top if it were to make it out in time for the Galaxy S5 launch that's expected early next year.
Samsung Galaxy S5 Sony smartphone ISOCELL Galaxy S4 phonescarousel-en-us