Best cheap smartphones: PAYG mobiles compared
£175
27th Nov 2013 | 17:36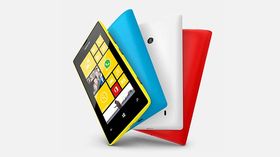 We compare the best budget blowers on the market
Best budget phones: 10-6
With the mobile marketplace teeming with a multitude of highly priced smartphones, one might wonder whether cheap phones still have a place in the mobile infrastructure.
With massive innovation in both hardware and operating systems, phones now do a lot more than just let you talk and text, with handsets like the Samsung Galaxy S4, HTC One and iPhone 5S stealing headlines around the world these days.
Sadly all this innovation isn't cheap – and most of it is reserved for high-end contract handsets. So, is there such a thing as the 'best phone on a budget'?
We've been through our extensive mobile phone reviews to find the best cheap phones at the moment, so if you're looking to pick up a decent handset for not much wonga (under £180 in fact), these are the best budget phones going.
10. ZTE Blade V
PAYG: from £81.99
ZTE might not be the most well known smartphone manufacturer out there, and while it's top-end handsets have failed to hit the mark it does a good job at the opposite end of the market.
The ZTE Blade V is the Chinese firm's latest stab at dominating the budget handset arena, and with a 1.2GHz quad-core processor, 5MP rear camera, 4-inch display and Android Jelly Bean it's a strong contender on paper.
In practice the Blade V isn't the slickest operator, which is a little disappointing considering the specs ZTE has crammed inside, but for the price it doesn't really do a lot wrong.
For those that are after a cheap handset to take to school, or as a back up to something a lot more powerful - just note, it's only available on Virgin Mobile. A potential deal breaker for some.
9. HTC One SV
PAYG: from £179.95
Pay monthly: FREE from £29 per month
Are you taken by the UK's 4G boom, but don't fancy splashing a huge amount of cash on a top end handset? If so you'll want to meet the HTC One SV.
As you may have already guessed the One SV comes 4G enabled as well as boasting a 4.3-inch display, 1.2GHz dual-core processor, 1GB of RAM, 8GB of storage, 5MP camera and Android Jelly Bean wrapped up in a pleasing body.
It is one of the more expensive handsets on our budget phone list, but recent price cuts means it's now under that magic £200 mark.
Battery life is impressive, internet browsing is speedy and the pocketable design means the HTC One SV is also easy to carry around.
8. Samsung Galaxy S3 Mini
PAYG: from £139.95
Pay monthly: FREE from £16 per month
Sure the Samsung Galaxy S3 Mini may be over a year old, but that just means you can pick it up for less - resulting in a pretty nifty deal.
The Galaxy S3 Mini never came close to matching the flagship Galaxy S3 in terms of specs, but for £140 you can now snaffle a handset which gives you a 4-inch display, 1GHz dual-core processor, the Android Jelly Bean OS and a 5MP rear camera.
We really liked the Samsung Galaxy S3 Mini. It ticks all the right boxes, and now comes in at a very decent price. The addition of a microSD slot is always a bonus in our book and it's a well built handset.
If the Galaxy S3 Mini takes your fancy then don't hesitate to snap it up at this price - although you might want to finish reading this article first!
7. Sony Xperia U
PAYG: from £79.99
Pay monthly: FREE from £14 per month
The Sony Xperia U oozes style and sophistication. Featuring a well-built form and traditional black Sony style, it will help you get the look on a budget.
As well as it's fashionista tendencies, the Xperia U doesn't disappoint on specs either. A large 3.5-inch touch screen give good access to all your apps, and Ice Cream Sandwich offers plenty of choice when it comes to games and productivity (although it's not as slick as Jelly Bean) - plus a dual-core 1GHz processor isn't bad for the price.
A front facing camera will let you video call at VGA resolution, whilst on the back you will find a decent 5MP camera for your snaps.
The Xperia U doesn't offer any expansion slots, and comes with a slightly meagre 4GB storage. This is plenty for day-to-day use, but you might still need a standalone media player if music or video is your thing.
6. Nokia Lumia 620
PAYG: from £99.99
Pay monthly: FREE from £11 per month
There's not a whole lot that the Nokia Lumia 620 does wrong. As an all-round, jack of all trades budget handset it does a great job.
We'd love it if the screen was slightly bigger or it had a little bit more RAM, but for the price we can't really complain.
The range of brightly coloured covers will likely attract the youth of today, and their tough plastic construction should keep the Lumia 620 in good nick, even after the occasional drop.
The only real issue is the battery, and that's an issue to some extent with every Windows Phone 8 right now but if you fancy a little more screen real estate and a non-Android experience then this is a decent shout over the smaller Lumia 520.
Best budget phones: 5-1
5. Huawei Ascend Y300
SIM-free: from £99.95
Pay monthy: FREE from £7.50 per month
Huawei have built a solid touch screen device in the Ascend Y300, and for around £100 it's perfect for people on a tight budget that want the same features as many of its competitors.
The camera in the Ascend Y300 isn't going to blow you away, although it does the job and includes editing features that don't come as standard on competitors.
If you are willing to compromise a little and want to keep some money in your pocket, and fancy embracing a device that has not been produced by the established big boys in the industry, then the Huawei Ascend Y300 could be for you.
4. Sony Xperia SP
PAYG: from £179.99
Pay monthly: FREE from £15.50 per month
The Sony Xperia SP is a phone that's flown a little under the radar, but one of the main draws is the 8MP camera.
There are a range of settings and the quality of the images it produces were well beyond what we would expect from a smartphone at this price.
There are other things we really dig on the SP too: the inclusion of a microSD slot is always welcome, and the Walkman app makes a mid-range handset really shine for the music lover.
It's also packing 4G connectivity for speedy data on the go, which again is really rather nice for the price - in short, it's a handset that outperforms its price tag.
3. BlackBerry Z10
PAYG: from £159.95
Pay monthly: FREE from £10.50 per month
"Hang on a minute, didn't this launch as a flagship smartphone less than a year ago?" we hear you ask. Well yes, it did - but the BlackBerry Z10 has seen one of the most dramatic price drops in smartphone history.
While that is due to the firms various financial issues the result is a fantastic deal for you, the consumer with a 4.2-inch HD display, 1.5GHz dual-core processor, a meaty 2GB of RAM, 8MP rear facing camera plus a 2MP front snapper - look at the price and you'll see it's a great deal.
Of course there are questions about BlackBerry's stability, but it's not going to disappear overnight so you won't be left high and dry if you plump for the Z10.
You'll need to get to grips with the new BlackBerry 10 platform, but any business users out there looking for a messaging machine the Z10 is now an excellent choice.
2. Nokia Lumia 520
PAYG: from £69.95
Pay monthly: FREE from £8.50 per month
The Nokia Lumia 520, much like its big brother the Lumia 620, is a jack of all trades and a master of none - although it really manages to make a good fist of everything it tries, for the price.
It looks good, it's got a decent screen both in terms of size and resolution, it rarely stutters or slows down, it's great for calls and messaging, reasonable for media and okay for photos.
To achieve a lower price point the 520 has had to strip away a few things - there's no NFC, compass, camera flash or front facing camera here.
The Nokia Lumia 520 certainly isn't an iPhone or Samsung Galaxy beater - but it's a superb Windows Phone 8 device that you can pick up for under £100.
If you're a fan of a simple interface with some quality add-ons, then you should definitely look at Nokia's latest attempt to win over the smartphone naysayers.
1. Moto G
PAYG: from £119.89
Pay monthly: FREE from £11 per month
What's this, a Motorola topping a "best of" list? Your eyes do not deceive you, Motorola is back and the Moto G is a cracking handset.
In fact the Moto G is the best budget handset currently on the market, and if you're looking for maximum bang for your buck look no further.
Take a gander at the spec list and the Moto G simply blows the rest of the phones here out of the water. It's rocking an excellent 4.5-inch, 720 x 1280 HD display, 1.2GHz quad-core processor, 1GB of RAM, 5MP rear camera and 1.3MP front snapper.
The camera isn't particularly brilliant, and there's no NFC or 4G to speak of, but those are minor concessions in what is otherwise a top notch smartphone.
In terms of operating system it's running the latest version of Jelly Bean - Android 4.3 - and Motorola has already guaranteed an Android 4.4 KitKat update for the Moto G by January 2014.
Looking to pick up a new mobile? Check out our mobile buying guide first:
mobile phones PAYG phones HTC Samsung Sony Nokia LG phonesbuyingguide-en-gb phonescarousel-en-gb phonesrecommended-en-gb vertical_links_box-en-gb