Four cameras to power 3D? Amazon phone may use just that many
3rd Oct 2013 | 17:20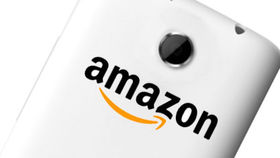 Cheaper handset running Fire OS reportedly also in the works
More fuel has been added to the fire surrounding one of the tech industry's biggest "is it real?" devices, with new word spreading about the so-called Amazon phone. Or should we say, phones.
TechCrunch reported this week that Amazon is developing not one but two different smartphones, including a high-end model featuring a 3D user interface and packed with multiple cameras for facial tracking.
We've heard talk of two Amazon phones, including one with 3D capabilities, before, but TC provided a few additional details.
The high-end phone, codenamed "Smith," reportedly uses four cameras - one at each corner of the handset - to track the user's head and eyes in order to give the illusion that the screen is actually in three dimensions.
In theory, the feature could provide a more accurate version of the parallax effect used with Apple's latest iOS 7, which is controlled by internal sensors of the iPhone, iPod touch or iPad running the operating system.
Spreading like wildfire
It's unclear how Amazon plans to absorb the manufacturing cost of three additional cameras (counting a fifth rear-facing camera for photos and video), but the report suggested real-world image recognition as one such possibility, which would make it easier to purchase products from the e-tailer.
While no one knows for sure what kind of operating system might power the high-end smartphone, an anonymous poster on Hacker News claimed that a second, budget-priced model running the company's Fire OS is also in the cards and could debut before the end of this year.
Fire OS is a forked version of Google's Android that currently powers Amazon's Kindle Fire tablets. Recent rumors have Fire OS behind an Amazon set-top box capable of streaming music, movies and TV shows.
Amazon's future hardware is a closely guarded secret within the company's Lab126 facility in Cupertino, where several projects named after letters of the alphabet are said to "shipped around internally inside a locked metal case" with only the displays visible.
Hopefully for those wanting an Amazon smartphone, some of those metal boxes are handset-sized.
Get an eyeful of the iPhone 5S with our full review of Apple's latest!
Amazon smartphones 3D iOS 7 Fire OS Android cameras hardware set-top box Lab126 phonescarousel-en-us