10 essential entertainment apps for Windows Phone
23rd Dec 2013 | 16:00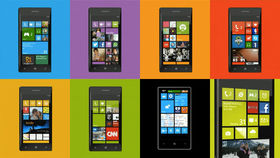 The apps to entertain on Windows Phone
Windows Phone is still lagging behind iOS and Android in terms of app numbers, but that doesn't mean you have to miss out as there are still thousands of great ones. We've sifted through them and come up with ten essential entertainment apps that no-one should go without.
1. Netflix (£5.99 per month)
Netflix is an app which should need no introduction. If you're a Netflix member you can use the app to stream thousands of movies and television programmes straight to your phone.
Films are sorted into categories to make them easy to find and while the selection of content in the UK used to be lacking, it's grown substantially and is actually quite impressive now.
It's smart too, as it will suggest things that you might like based on your previous ratings.
Plus if you get halfway through a film and decide to finish watching it another day or on another device Netflix will let you pick up from where you left off.
2. Flixster (free)
If you're a film fan then Flixster should be your first port of call.
You can use the app to view film trailers and check out what's doing well at the box office.
You can also view new and upcoming DVD releases, find film times at your local cinema and read both critics and user reviews of films.
Basically it provides everything except the films themselves and you've already got Netflix for that so with the two combined your movie needs should be covered.
There's also a website version of Flixster but the app is designed with touch screens in mind and is so much more convenient for mobile users.
3. TVCatchup (free)
If TV is more your thing, then check out TVCatchup. It lets you watch dozens of live UK TV channels. Essentially it's like having freeview on your phone.
You can use voice commands to launch a channel and it even has a programme guide so you can see what's on now and what's coming up, along with a synopsis and episode number for each programme.
Best of all it's totally free, so there's no reason to miss the latest episode of your favourite TV programme.
4. Unified Remote (£2.49)
Sometimes you want to watch things or listen to music on your computer but you don't want to sit at a desk or have to get up whenever you need to pause a video or skip a music track.
With Unified Remote you don't have to. It unchains you from your desk by allowing you to control your computer with your Windows Phone.
It's surprisingly easy to use too. It turns your screen into a virtual mouse mat and you can use your finger as a mouse by swiping it across, in much the same way as you'd operate a touchpad on a laptop.
A quick tap on the side of the screen acts as a mouse click and more advanced options are available with custom remotes, which include those for Windows Media Player, Netflix and more.
5. Rdio (£9.99 per month)
Rdio provides a similar experience to Spotify in that it gives you access to over 20 million music tracks on demand.
It also lets you build playlists and even download songs for offline listening.
It's also great for music discovery, as you can follow friends, musicians and taste-makers to discover new music.
Plus with support for collaborative playlists it's even a little bit social.
Like Spotify it carries a monthly subscription fee of £9.99 if you want to use it on your phone.
6. TuneIn Radio (free)
If you prefer your music to be free, head on over to TuneIn Radio. It gives you access to over 70,000 real radio stations worldwide, alongside 2 million on-demand streams of podcasts, shows and concerts.
If you find a station you love you can pin it to your start screen, while stations, songs and shows can all be added to your favourites for easy access.
Whether you want to listen to some authentic Jamaican reggae or see what's on the radio in Tokyo you can and with the ability to drill down by location and genre it's easy to find what you're looking for.
It's not just music either, as TuneIn Radio also has access to stations that feature news, sports and current events.
7. Xbox SmartGlass (free)
If you've got an Xbox 360 or Xbox One you'll likely be familiar with what a chore it can be to type with the controller. Whether you're sending a message or typing a code it takes ages.
One alternative is to use Xbox SmartGlass, which allows your phone to control the console.
Your Xbox 360 needs to be connected to the internet for it to work, but then you'll be able to type on your touch screen and use swipes and taps to navigate menus and play, pause, fast forward, rewind and stop videos and music.
You can even use SmartGlass to navigate the Xbox library on your phone or tablet itself and ditch the big screen altogether.
You can't use it to directly control games, but that's the one thing that your controller is suited to.
8. Shazam (free)
We've all been in a situation where a song's playing- maybe it's in a shop or in a movie or an advert, and you want to know what it is.
No longer do you need to remember the lyrics till you get home and put them into Google in the hope that it finds something, now you can just launch Shazam and let it do all the work.
It has a very high success rate for identifying songs and once it does it will give you links to buy the track or watch its music video on YouTube.
You can also learn more about tagged artists straight from the app and if you don't have a data connection Shazam will still tag the song and will give you a match once you have a connection again.
9. IMDB (free)
If you've ever wondered who's in a film, what other people thought of it, or for that matter wanted to know just about anything else about it, from soundtrack listings to trivia, you've probably found your way to the IMDB website.
That's fine if you're on a computer, but from a smartphone the app is much easier to use.
It's small screen friendly and easy to navigate with a few taps.
It has all the key details of films and TV shows, so you'll never be left wondering who played 'security guard 3' again.
10. Metrotube (£0.79)
Windows Phone isn't particularly well served when it comes to YouTube.
There's no official app and while Microsoft has tried its hand at making one it simply doesn't work.
Metrotube has stepped up to the plate and filled the void, providing a YouTube app that not only works but also looks stylish too.
It also has advanced features such as being able to store videos to play them offline.
No smartphone user should go YouTube-less and with Metrotube they don't have to.
best entertainment apps top media video music applications windows phone best windows phone apps cpwcarousel cpwhub phonescarousel-en-gb cpwfeatured