10 best touchscreen phones
12th Jan 2012 | 12:38
Compared: what's the best touchscreen phone for you?
10 best touchscreen phones for 2012
Our best touchscreen phone article is constantly updated.
Quite simply, touch screen technology is the innovation we now expect to see in some shape or form from every new smartphone that launches.
Swapping a button-bashing existence for a softer sensing interface we can press, swipe, pinch and zoom, means we can now do a little bit more than simply stare into that pint-sized screen of ours.
If the only QWERTY keyboard you want to see on a daily basis is the one nestled next to your office computer, here's our pick of the best touchscreen smartphones available right now in the UK.
1. Samsung Galaxy S2

The Galaxy brand has restored our faith in Samsung's ability to make great phones, and with Google's Android OS and some impressive touchscreen technology, the S2 continues that trend.
Housed within a supremely slender form, the 4.27-inch Super AMOLED Plus screen is an ideal surrounding for viewing your 8-megapixel snaps.
Running on Android 2.3 Gingerbread and packing a 1.2Ghz dual-core Exynos processor ensures there is plenty of zip for your web browsing and with eye-popping colours it's perfect for watching a plethora of video formats on the go.
Read our full Samsung Galaxy S2 review
2. Apple iPhone 4S
It wasn't the dramatically re-designed iPhone 5 we had hoped for, but the iPhone 4S still features one of the slickest smartphone displays money can buy.
An 8-megapixel camera and 1080p HD video recording aside, a new A5 dual-core processor means even the most graphically demanding iPhone games run more fluidly and lag-free on the gorgeous 3.5-inch Retina display. Like the iPhone 4 the 800:1 contrast ratio and 960x640 resolution makes the 4S a suitable partner for all your multimedia viewing needs.
Read our full iPhone 4S review
3. Sony Ericsson Xperia Arc

Despite the Xperia Play hogging the media limelight, the Arc has captured our imaginations from the latest range of Sony Ericsson handsets much in part to the gorgeous 4.2-inch touchscreen display.
With a curved-body design making it one of the most comfortable to grip in your hand, the new Reality Display which uses LED backlighting along with the Mobile Bravia Engine, should serve your video playback, browsing and deliver a slick response to touch.
Read our Sony Ericsson Xperia Arc review
4. Samsung Galaxy Nexus

Arriving as the world's first Android 4.0 Ice Cream Sandwich smartphone, the newest Nexus family member follows in the impressive touchscreen footsteps of its close Galaxy compatriots.
Powered by the same 1.2GHz dual-core processor nestled inside the Samsung Galaxy S2, the Galaxy Nexus hosts a vibrant 4.6-inch Super AMOLED HD screen that'll do full justice to your 720p videos, internet browsing and the raft of camera features which includes the excellent single motion panorama mode.
Read our full Samsung Galaxy Nexus review
5. Motorola Razr
The iconic Razr brand returns (minus the clamshell design), delivering us one of the most premium Android smartphones on the market.
Running on Android 2.3.5 Gingerbread, the Razr packs a 1.2GHz dual-core processor, an 8-megapixel camera with 1080p HD video recording capabilities and a stunningly vibrant 4.3-inch Super AMOLED display which puts it in good company with the Samsung Galaxy S2 and the iPhone 4S in terms of crisp visuals and great clarity.
Read our full Motorola Razr review
Galaxy S, BB Bold 9900 and more
6. Samsung Galaxy S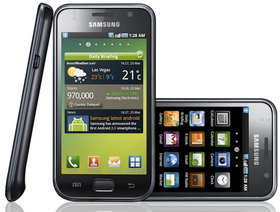 Setting the benchmark for immensely bright displays, the Galaxy S houses a 4-inch Super AMOLED capacitive touchscreen that does not disappoint. Its 480x800 WVGA resolution is someway behind the iPhone 4 (640x960), but you can still expect vivid colours, true blacks and outstanding contrast ratio.
It's no longer at the top of the pile when it comes to awesome picture quality, having been usurped by its Galaxy S2 brother, but this is still one of the best touchscreen phones to show off in the pub if you want to bedazzle your mates with awe-inspiring picture quality.
Read our full Samsung Galaxy S review
7. BlackBerry Bold 9900
Staying true to the design which made the 9000 so popular, the Bold 9900 adds the new BlackBerry OS 7 giving the handset a serious multimedia makeover.
The big selling point for the Bold 9900 is it packs a 2.8-inch screen with VGA resolution which delivers crystal clear clarity and matches the iPhone 4 for sharpness, making it ideal for web browsing and media viewing (albeit not great for movie marathons).
OS 7 also sees the addition of a 5-megapixel camera with LED flash, the ability to record 720 HD and a distinctly new look interface, all which is housed in a premium chassis that makes this one of the best BlackBerry phones on the market.
Read our BlackBerry Bold 9900 review
8. HTC Sensation XE

As the first HTC handset to get a Beats Audio makeover, the Sensation XE hosts a sleek unibody design married with stunning screen technology.
Sporting the same 4.3-inch HD screen as the original Sensation, the Android Gingerbread smartphone delivers vivid and brightness that is well matched with HTC's impressive Sense 3.0 and an 8-megapixel camera with dual flash making it one of the best high end smartphone snappers on the market.
Read our full HTC Desire S review
9. LG Optimus 3D
While Nintendo brought glasses-free 3D to gaming, LG was the first to bring the display technology to smartphones in the shape of the Optimus 3D.
Sporting a hulking 4.3-inch Super LCD display, the Android 2.2-powered handset delivers a surprisingly bright and vivid picture for your web browsing and movie watching, while parallax technology helps gives games and video the 3D effect without the need for the pesky glasses - although the battery life suffers when chugging through 3D content.
A dual-core processor gives the Optimus 3D suitable grunt in the power department, while dual 5-megapixel cameras mean you can shoot 3D 720p video, take 3D stills and convert 2D movies into 3D to complete the eye-popping experience.
Read our full LG Optimus 3D review
10. LG Optimus Black
Stealing the esteemed honour of world's slimmest smartphone from the Apple iPhone 4, there's much more to the Optimus Black than its slender form factor.
Measuring in at just 9.2mm thickness, the Android 2.2 handset hosts a 4-inch 800x400 resolution NOVA display, giving it one of the clearest LCD screens on the market and making it ideal for video and internet browsing.
Smartshare means you can share content to a PC or a TV wirelessly, while there's a 5-megapixel camera with single LED flash in tow.
Thanks to the NOVA display you'll also get a longer battery life to boot, which is something all phone users can appreciate - and its performance in bright sunlight makes it an unheralded big hitter in the 'best touchscreen on a smartphone' category.
Read our full LG Optimus Black review
-------------------------------------------------------------------------------------------------------
Liked this? Then check out 20 best mobile phones in the world today
Sign up for TechRadar's free Week in Tech newsletter
Get the hottest tech stories of the week, plus the most popular reviews delivered straight to your inbox. Sign up at http://www.techradar.com/register
mobile phones smartphones touchscreen