10 Best Samsung Galaxy S2 Apps
17th Jun 2013 | 10:25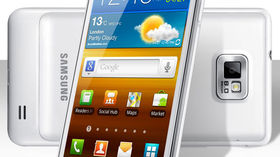 Liven up the old beast with some of today's newest apps
The Galaxy S2 is a survivor. Samsung released what was the world's best Android phone by some margin in 2011, and the thing's such a Triple-A, five-star, double-thumbs-up stonker that many still use it today, despite mass peer pressure to upgrade to something else every six months.
Samsung's in the process of updating the Galaxy S2 to Android Jelly Bean too, meaning most owners should already have a vastly different and improved experience to the one the phone originally shipped with, refreshing and enhancing what was already a seamless and responsive smartphone.
On top of that, of course, owners have access to the wealth of innovation, tinkering and enhancements that come via Google Play Store, where all manner of apps can be bought and downloaded for free to breathe more new life into any ageing mobile.
So here are 10 top apps to help spruce up the Galaxy S2 further still and bring it nearer today's cutting-edge of Android.
Action Launcher Pro
If you want to start by completely refreshing your Galaxy S II, installing an alternate launcher is the way to go. This replaces the entire user interface of the phone, meaning you instantly kiss goodbye to all of Samsung's TouchWiz interface tweaks.
Action Launcher also gives you an experience that's much closer to the feel of "stock" Android, should you fancy upgrading your S II from the ground up, replacing all of Samsung's fiddlings with the cleaner, more modern Android user interface.
Nova Launcher
For a more customisable way to refresh your Galaxy S II, try this one. Nova Launcher also removes Samsung's TouchWiz tweaks from the phone, coming with masses of options to edit the colours, styles and sizes of its icons and text.
Plus you're able to change extremely nerdy things such as the phone's folder content appearance and background, add gesture shortcuts to launch apps, scroll the floating dock's app shortcuts and much, much more.
Beautiful Widgets Free
It's also really easy to replace the old Touc
hWiz widgets, if you're now a bit bored of looking at Samsung's take on the interactive Home screen tools.
The popular Beautiful Widgets has been doing this extremely well for years, offering a wide range of neat and stylish widgets to pop into you little mobile desktop. And now there's a limited free version available too, for money-free trialling of its approach to Home screen data.
SwiftKey Keyboard
The Galaxy S II arrived with both a standard Android QWERTY keyboard and the flashier Swype gesture input system installed. But rival gesture system SwiftKey is another option to consider, offering word prediction and gesture input – plus it has much more in the way of visual and layout customisation.
This includes some landscape display options that let you split the keyboard in half for easier use, loads of themes and its well-known ability to "learn" your typing style by analysing your texts and social media posts.
The free trial lets you see if it works for you for one month, after which you'll have to chuck some money at it to unlock the full release.
Camera MX
The Galaxy S II had the best camera on it by far back in the day (by which we mean two years ago), and the output from its 8-Megapixel sensor is still better and brighter than that of many of the cameras that come in today's new smartphones.
Get even more out of it by installing Camera MX, which, among many, many other features, includes a filter option that lets you create madly fashionable tilt shift images, making people look like toys and cars resemble matchboxes with Smarties for wheels.
It also adds filters to images live, as you take them, so you can set up a favourite effect and have it applied to your snaps by default with no post-production fiddling required.
Google Play Music
Original versions of the Galaxy S II were sold long before Google's cloud-based music player existed, back when music had to be "transferred" to phones using cables and suchlike.
Now your tunes can by synced inside and from the cloud, with Google's player letting you pull tracks and albums to your phone by pinning them from the menu – or you can save internal storage space by streaming everything through a Wi-Fi or 3G signal.
It'll also sync playlists created on other devices, too, which is very handy if you have a tablet and/or another phone on the go using the same Google account.
Google Drive
Another app to benefit from a recent Google reorganisation is the company's Google Drive storage system, which now lets users access a whopping great combined total of 15GB of cloud storage, for free, through the app's uploading front end.
Primarily designed to let users create and edit Google documents on the go, it's now been transformed into the perfect place to dump your photos and videos too, should your phone's storage space be a little tight after two years of filling it with high-res pics and video from the S II's camera.
Lookout Security & Antivirus
One of these days, one of the Android virus scandals may turn out to be genuine, so best be prepared for any possible future tech apocalypse.
The Android Lookout app checks app installs for malware, but also looks through email attachments and web downloads for nasty files, which is a much more common way for infections to get on a mobile.
It also includes a Find My Phone section, which, once activated, lets you track your mobile, and comes with a remote locking tool to shutdown access should you suspect a criminal's trying to leaf through your personal photos and pull out the best for a Buzzfeed list feature on how stupid you look.
Google Keep
Google's Android developers are gradually assimilating features and ideas offered by its army of third-party app developers, with the mobile giant's Google Keep doing a decent job of cloning the many note-taking apps out there that let us capture any interesting thoughts that may come our way.
The app's most useful tool is its combination of a Home screen widget and voice recognition, meaning that with one touch you can record your Alan Partridge style "note to self" about that amazing thing you just happened to think up. It also syncs everything via Google Drive, for desktop access to your mobile activities.
Servers Ultimate
But if you've reached the end of your 24-month term and have upgraded your Galaxy S II to something else, why not make it into a personal home server?
Servers Ultimate does just that, turning any Android phone into your own little home and online media hub, complete with the power to run your own Email, MySQL, SFTP or torrent tracker from any old mobile.
The full version costs £5.95, but the freebie lets you set it up and get a feel for its level of usefulness and complexity.
----------