Best laptop: 30 top laptops for every budget
7th Oct 2013 | 12:07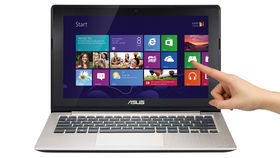 TechRadar's complete guide to the top laptops to buy today
Choosing the best laptop for you
What's the best laptop 2013? We've got all of today's latest laptops compared and rated.
Now that Windows 8 is a year old, we've got a huge number of laptop-tablet hybrids appearing as well as plenty of traditional laptops using the new OS.
And that's before you get to Apple's hugely successful MacBook line as well as Google's Chromebooks.
No wonder choosing the right laptop can be even more confusing than ever.
Thankfully, things aren't like they used to be, and buying anything but low end laptops will get you a reasonable standard of performance.
Cheap laptops are more powerful and capable than before, while high-end devices are often perfectly good replacements for your desktop computer, able to cope with more intensive programs.
Those after a fast boot up time and a lightweight machine to carry might drool over an Intel Ultrabook, which is essentially a marketing name for a thin and light laptop with an Intel Core processor.
Serious gamers will want a machine tailored to their graphical and processing needs, while those after flexibility might fancy a convertible laptop-tablet hybrid.
Here we look at some of the best laptops for 2013 - those that really excel themselves in our extensive testing processes this year. We've arranged them into categories to help you find the best one to suit your needs.
We also list the current selling prices in the UK, Australia and the US, although in some cases a laptop listed here may not be available in every territory.
All of the machines listed here are laptops. We have also listed the convertible laptop-tablets that fall more on the side of laptop than tablet, and that includes devices such as Microsoft's Surface Pro.
Similarly, all-in-one touchscreen computers and other desktop PCs are in our PC and Mac desktop reviews page.
PRICING NOTE: The prices listed here are for guidance only and aren't guarantees of availability at a certain price. Because of the wildly fluctuating availability of certain models, we often review laptops by series. As a consequence it may be that there are tens of models with similar or the same name, vailable at various price points.
When considering what to buy, think about your needs and your most important factor, be it laptop battery life or screen size. The most important part is to be honest about what you need, and you could save a fortune on getting the best laptop for you.
Best laptop-tablet hybrids
Since this article seeks to round up the best laptops available, we are only listing those we have fully tested and reviewed in real life situations. More laptop-tablet hybrids will be reviewed as soon as we get them in for testing, so we expect to add more impressive convertible tablets to this list later.
For now, here are the great machines we have tested and loved so far:
1. Lenovo Yoga 11S review - £680/AU$889/US$800
While other manufacturers are busy pointing fingers as to why the PC seems to be struggling in the face of competition from that Cupertino-based company and myriad tablets, Lenovo is both pumping out solid Windows 8 devices while at the same time, turning a profit. Which brings us to the Lenovo Yoga 11S.
Of course, this isn't Lenovo's first time on the yoga mat. The 13-inch Lenovo IdeaPad Yoga was released last year to very favorable reviews. The appropriately named 11s is a size down. At just 11.6-inches, it's the smallest form factor that can support a full QWERTY keyboard.
2. Microsoft Surface Pro - £684/AU$889/US$800
We've been waiting quite a while for a tablet like this - and not just since it was announced last year. If you ever saw a Windows tablet PC and wanted one that was done properly, you've been waiting years for Surface Pro with ful Windows 8.
What's more, it's now a steal - discounted prices that went into effect in early August are here for good, at least in the U.S., with the Surface Pro, Touch Cover and Surface RT all seeing some slices. What's more, there appear to be price cuts going into effect globally, with the Microsoft UK and Australiawebsites showing discounted pricing for Surface and accessories.
Read our Surface Pro review
3. Acer Aspire P3 - £700/AU$1,250/US$900
Acer has upped its game in recent years, and it's easy to forget that just two years ago the Taiwanese giant made its money peddling identi-kit budget laptops by their millions.
The company has since turned around its reputation and is responsible for the glorious Acer Aspire S7 - one of finest Ultrabooks out there - and has also got chins wagging about the Acer Iconia W3 - the world's first 8-inch Windows 8 tablet - as well as the Acer Aspire R7.
Read our Acer Aspire P3 review
4. Samsung Ativ Smart PC Pro - £775/AU$1,280/US$930
When you have it in its Ultrabook form, the Samsung Ativ Smart PC Pro is maybe not the standout laptop some of its peers are. But when it becomes a tablet, it's a great Windows 8 tab with an excellent screen that's powerful, well balanced in your hands and very responsive to touch. You can go from either mode to the other in seconds, and neither is disappointing. Write on it with a stylus, type on it with the keyboard attachment, navigate with your finger - the Smart PC Pro can do it all.
Read our Samsung Ativ Smart PC Pro review
5. HP Envy x2 - £830/AU$900/US$640
The outstanding industrial design in the HP Envy x2 really shows the potential of a tablet/laptop hybrid, and will leave you with little question that this is the direction laptops are heading in. It combines a full version of Windows 8 with excellent battery life in a compact package, with its superb 11.6-inch screen topping things off.
Read our HP Envy x2 review
6. Sony Vaio Duo 11 - £900/AU$1,500/US$1,500
A full Intel Core processor powers the sliding tablet-laptop design of the 11.6-inch Sony Vaio Duo 11, enabling it to run Windows programs as well as Windows Store apps. Its design is a welcome change from the many docking 'transformer' style hybrid devices such as the Samsung Ativ Smart PC and Asus Vivo Tab.
While it's not a perfect laptop-tablet hybrid, and certainly won't have mass appeal, Sony has furthered the Windows 8 cause with an exceptionally powerful device that challenges the perceptions of what tablets can achieve. Also check our the Vaio Duo
Read our Sony Vaio Duo 11 review and also check out our Sony Vaio Duo 13 review
Best budget laptops
7. Samsung Series 3 Chromebook - £230/US$330 (around AU$350)
Cheaper than some tablets, the Samsung Chromebook doesn't run a typical operating system such as Windows, OS X or even Linux. Instead, it is designed just to run Google Chrome, the web browser, and related web apps.
If you think you could do all your computing using Google web apps, you could well benefit from the good battery life, silent operation, light weight and portability, simplicity and implicit security of the Chromebook, not to mention its low price. However, with no 3G connectivity, it is pretty much limited to use only in Wi-Fi areas.
Read our Samsung Series 3 Chromebook review
8. Acer Aspire V5 - £310/AU$732/US$400
The Acer Aspire V5-122P is light and very portable and now comes with touchscreen input. As such, it works very well with Microsoft's Windows 8. You won't need to navigate using the touchpad's frustrating integrated click buttons because you can just reach up and swipe through options on the screen.
Although available in a wide range of specifications, our model arrived with an AMD A6-1460 processor with a clock speed of 1.0GHz and backed by 4GB of DDR3 RAM. While these components handled complex processes well on day one, we're not sure how well the V5-122P will hold up after a year's worth of program installation and software updates.
Read our Acer Aspire V5 review
9. Lenovo G505 - £380/AU$533/US$272
How much should a laptop cost? A laptop that can handle serious applications, surf like the best of them and also turn its hand to the odd game? How does £350 strike you?
That's the price tag that can be found hanging from Lenovo's latest offering, the potentially bargainous Lenovo G505. With the world and his dog jumping aboard on the Ultrabook bandwagon, it's good to see that there's still interest from system builders to manufacture value-focused machines.
Read our Lenovo G505 review
10. Asus VivoBook S200 - £450 (around AU$685/US$715)
The Asus VivoBook S200 offers supreme good looks, touchscreen operation, slick performance and excellent portability, all for a reasonable price.
Indeed, it's an absolute steal for the money. This laptop runs on an Intel Core i3-3217U processor, which means it provides more than enough grunt to power Windows 8 through any day-to-day tasks, while keeping power consumption to a minimum.
You don't get any fancy graphics – if playing 3D games is on your to-do list, look elsewhere – but again, the integrated Intel HM70 EXPRESS chip is good enough to keep everything on the 11.6-inch screen running creamy smooth without pulling too much juice out of the battery.
The Asus VivoBook S200 is a brilliant little laptop which offers supreme good looks, slick performance and excellent portability, and all for a highly agreeable price.
Read our Asus VivoBook S200 review
11. Asus V550CA - £466 (around AU$650/US$750)
Mid-ranged laptops such as the Asus V550CA-CJ106H can sometimes be a mixed bag. They come with price tags that make it hard to overlook the sort of shortcomings you'd forgive a laptop £300 cheaper. And yet they still can't target the highest-end components for the best possible performance.
Sometimes these laptops can get the balance right, such as the Samsung Series 9 NP900X3D, but more often than not they can end up being rather underwhelming, like the MSI CX61 0NF. So how does the Asus V550CA-CJ106H fare?
Read our Asus V550CA review
12. . HP Sleekbook range - £500 (around AU$760/US$780)
The HP Envy Sleekbook 6-1126sa is a system that anyone looking to buy a budget laptop should check out. Its large screen and decent audio subsystem make it great for enjoying music and movies, while the comfortable keyboard and strong battery life make it a joy to use for everyday tasks. It also looks far more expensive than it is, and offers decent specs for its price too. It's not quite up there in terms of raw power, but in almost every other respect, this is a very tempting machine.
The HP Pavilion Touchsmart Sleekbook 15 is just over 2cm thick, but don't be fooled into thinking it's an ultraportable; it's definitely a little too heavy for that at 2.1Kg - not the best for carrying around every day. Mind you, for moving from room to room at home it really wouldn't pose you a problem - it's hardly a brick.
Read our HP Envy Sleekbook 6-1126sa review and our HP Pavilion TouchSmart Sleekbook review
High-end laptops
13. HP Envy TouchSmart 15 - £800/AU$1,100/US$990
HP's Envy line is the company's high-end range - the top-class stuff, in theory - but has produced mixed results recently. We were impressed by the Spectre XT and Envy X2, but weren't so sure about the Envy 6 or Envy 4.
But the HP Envy TouchSmart 15-j004ea is closer to what the Envy line originally stood for, so we always had high hopes for it. It's simply a highly spec'd machine, fitted into a smart chassis.
Indeed, at 29.9mm thick and weighing 2.56kg, it's far from being an Ultrabook. But what you get in exchange is a superb spec sheet. There's a quad-core Intel processor, a 2GB Nvidia graphics card, a colossal 16GB of RAM and a generous 1TB hard drive.
Read our HP Envy TouchSmart 15 review
14. HP Spectre XT TouchSmart - £1,000/US$1,200 (around AU$1,500)
The HP Spectre XT TouchSmart Ultrabook is a milestone. Watch the Ultrabook market over the next year. Watch as heavyweight chips join incredible screens as the norm rather than the exception. This is a great-looking machine, with a brushed aluminium shell and stunning 15-inch touchscreen, but there's a lot of substance here, too. The keyboard is excellent, the 1080p screen makes it great for working or for movies, the hybrid drive makes it run impressively fast and the touchscreen is a great extra… uh, touch. It's a shame it doesn't have the strongest battery life, but we'll forgive it since it's got that great screen to power instead.
Read our HP Spectre XT TouchSmart review
15. Apple MacBook Pro 13-inch - £1,000/AU$1,350/US$1,200
The mid-2012 MacBook Pro 13-inch is a significant step up from its older brother. The new processors and their improved graphical capabilities give it a considerable power boost over its predecessor, and USB 3.0 ports enable it to connect with high-speed storage peripherals.
The 13-inch MacBook Pro is ideal for those who need a little more configurability and storage than the MacBook Air can offer, but also need a very portable machine. Creative professionals and gaming enthusiasts might be better off with a 15-inch MacBook Pro, though.
Read our Apple MacBook Pro 13-inch review
16. Samsung Series 7 Ultra (Samsung ATIV Book 7) - £1,020/AU$1,300/US$1,100
Pretty much everything about the 13-inch Samsung Series 7 Ultra shouts premium. And so it should, given the price.
The cost alone butts it up against rivals sucha as the Asus Zenbook, Dell XPS 13 and Apple MacBook Air - remember that the latter model, while running Apple's OS X straight out of the box, can have Windows 7 or Windows 8 installed on it should you wish.
The Series 7 Ultra runs Windows 8 Pro. The main reason for the price is the presence of so many premium features, chief among them an AMD Radeon HD 8500M graphics chip, which Samsung has taken the rather unusual Ultrabook step of including, alongside the 1.8GHz Intel Core i5 processor.
That extra graphics chip is why it's among our high end laptops rather than being overleaf with our ultraportables.
Read our Samsung Series 7 Ultra review
17. Dell XPS 15 - £1,280/AU$2,000/US$1,600
While the Dell XPS 15 doesn't have the skinny credentials to qualify as an Ultrabook, it boasts a huge spec sheet, and an incredible hardware configuration inside a great-looking chassis. We're not sure we've seen anything as impressive on a PC as its Corning Gorilla Glass, Full HD display, though it doesn't quite have the "wow" factor of the MacBook Pro with Retina display.
If you're looking for a high-end PC that marries good looks and superb performance, and are more Windows than Mac, then you really shouldn't look any further than the Dell XPS 15.
Read our Dell XPS 15 review
18. Apple MacBook Pro with Retina display - £1,800/AU$2,500/US$2,200
The new Apple MacBook Pro's most exciting new feature is, of course, its Retina display. With a 2880 x 1800 resolution at 220 pixels per inch, it crams over 5.1 million pixels into its 15.4-inch screen. That's over three million more than an HD TV.
However, it does mean that after-market upgrades are almost impossible, and sacrifices have been made, such as the lack of a hard drive, optical drive and Ethernet or FireWire 800 ports. Clearly aimed at video editors, photographers and graphics professionals, the Retina screen is beautiful, but the laptop's high price tag will put some off.
Read our Apple MacBook Pro with Retina display review
Best ultraportables
19. Lenovo IdeaPad U410 Touch - £722/AU$915/US$700
We first crossed paths with the Lenovo IdeaPad U410 around this time last year, finding it to be a very tidy little package, even if it strained the Ultrabook name a little. Its mid-range price belied some rather useful specs, though, such as a dedicated graphics card and an uncommonly large hard drive.
While the name change from the original Lenovo U410 to the Lenovo U410 Touch here might draw attention to the touchscreen, it's not the special part: it's everything else in it that's noticeable.
Read our Lenovo IdeaPad U410 Touch review
20. Toshiba Satellite Z930 - £780/AU$1,290/US$1,200
The Toshiba Satellite Z930-10X manages balances power with affordability. Thin, light and powerful enough to handle a wide range of tasks simultaneously, it boasts a wide range of connectivity options and an Intel Core i5 Ivy Bridge processor.
If you want an Ultrabook exclusively for entertainment then we'd recommend looking elsewhere, since it lacks a Full HD resolution and has integrated graphics and fairly weak audio compared to other Ultrabooks. But as a mobile workstation for offices, the Toshiba Satellite Z930-10X is an excellent purchase.
Read our Toshiba Satellite Z930 review
21. MacBook Air 2013 - From £849/AU$1,100/US$1,000
Apple's often imitated but never bettered ultra-portable laptop puts in a strong, though not faultless, performance with this mid-2013 release, the sixth-generation of the MacBook Air.
It offers significant improvements in its solid state storage speed, graphical power, battery life and wireless capabilities, but the processor's clock speeds actually take a backward step. But as we'll see, for most real-world applications, the MacBook Air 2013 matches or out-performs its predecessor
Read our 11-inch MacBook Air review and 13-inch MacBook Air review.
22. Dell XPS 13 - £1,100/US$1,500 (around AU$1,670)
Dell has really got serious with the internals of the XPS 13. An Intel Core i7 processor, 8GB of RAM, an SSD for fast performance and an absolutely staggeringly large battery life all combine to make this pretty much the ultimate road warrior's laptop. It's brilliantly thin and light, and the 13-inch screen still gives you room to work. It's a bit of a shame it doesn't offer a touchscreen, but the Dell XPS 13 is still one of the best laptops you can buy, offering top performance, brilliant battery life and excellent build quality.
Read our Dell XPS 13 review
23. Samsung ATIV Book 9 Plus - £1,300/AU$1,600/US$1,400
Samsung was one of the very first PC manufacturers to jump on the Ultrabook bandwagon. It's done a fine job of representing Intel's baby ever since, with some stunning offerings, including the Series 5 Ultra Touch and, more recently, the top of the range Series 9 NP900X3D.
Samsung certainly knows its stuff when it comes to Ultrabooks, but the goal posts are always moving. So what new trick can it pull out of its sleeve?
Well, it's new Ultrabook: the Samsung Ativ Book 9 Plus, might keep the company ahead of the game for a while, at least if its on-paper abilities are anything to go by.
It's a wonderful-looking unit. It's thin and carefully crafted, with just a slither of the all-aluminium chassis peaking through the dark outer casing. But its plain black exterior might lend some clues as to its intent: this is an Ultrabook focused as much on the business user as regular Joe on the high street.
Samsung ATIV Book 9 Plus review
24. Asus Zenbook Prime UX31A - £1,350/AU$1,700/US$1,420
When Ultrabooks were first introduced by Intel, one of the first models to show us that it could stand up to the gauntlet laid down by the MacBook Air was the Asus Zenbook UX21. The Asus Zenbook Prime UX31A continues the styling of its predecessors, and adds a Core i7-3517U processor, Intel HD 4000 graphics and 4GB of RAM.
But the most notable change is its screen - a 1080p IPS wonder that dwarfs its competition's resolution. It falls down on battery life, so you should consider if that's a big issue for you. It's also expensive, but its performance is admirable.
Read our Asus Zenbook Prime UX31A review
25. Lenovo ThinkPad X1 Carbon Touch - £1,779/US$2,139 (around AU$2,538)
The original 2012 Lenovo X1 Carbon was the best ThinkPad money could buy, but now Lenovo has added a touchscreen panel and changed Windows 7 Professional for Windows 8, bringing last year's model right up to date.
The result is a formidable machine that not only offers the best usability and performance, but also a fantastic Windows 8 experience. However, the eye-watering price tag means this experience doesn't come cheap.
Read our Lenovo ThinkPad X1 Carbon Touch review
Best gaming laptops
26. Gigabyte P2742G - around £1,000/AU$1,706/US$1,607
Graphics. It's the final frontier for mobile computing. We'll come to the reasons why momentarily. But the bottom line is that it means going after a laptop with 3D grunt is going to cost you. And that makes the new Gigabyte P2742G actually look like something of a bargain.
It's a big, brash 17-inch portable gaming rig with a full-HD screen, a quad-core CPU and - critically - a dedicated graphics chip.
The problem for mobile gaming goes something like this. CPU performance is stagnating. In fact, Intel bases most of its desktop CPUs on mobile designs these days, so the performance gap is tolerable.
Read our Gigabyte P2742G review
27. Alienware 14 2013 - £854/AU$1,700/US$1,100
The Alienware 14 is an attempt to create a serious but portable gaming laptop.
It's been designed specifically for serious gamers - it has a roster of specs to die for and a price to match. This
Alienware is owned by Dell, and the gaming brand has benefited from the latter's prowess in building robust laptops, as well as its buying power.
As you'd hope, there's a full HD WLED Full HD anti-glare screen with superb viewing angles. The colours on the Windows 8 Start screen still look awesome even when viewed from an extremely acute angle. The anti-glare coating can make pale colours look a little grainy at first glance, but games look superb on it. Sadly, it's not a touchscreen.
Read our full Alienware 14 review
28. Samsung Series 7 Gamer - £1,350/US$1,900 (around AU$2,060)
The Samsung Series 7 Gamer laptop has the hardware and performance that gamers care about, and a price tag that we would deem fair. Samsung's custom UI, however, mostly detracts from the overall experience, short of one or two niceties, such as being able to disable the trackpad and Windows keys. It's also quite heavy.
From a purely processor to pennies perspective, the Series 7 Gamer is worth the money. It's a gaming machine capable of playing the latest titles at respectable settings. All its case lights and fancy UI, though, make it a bit like a party guest who arrives overdressed. You're glad they showed up, but the bow tie they're wearing just makes them look silly.
Read our Samsung Series 7 Gamer review
29. Asus G750JX - £1,400/AU$2,500/US$1,900
When you buy a high-end gaming laptop like this, you're not only buying something that's physically large, you're also buying power - and a considerable amount of power at that.
The Asus G750JX boasts top-end components across the board, but nowhere more so than at its hugely capable heart - there's a Core i7-4700HQ processor on board from Intel in there. Launched mere months ago, this 2.4Ghz quad-core processor has plenty to offer gamers.
30. MSI GS70 Stealth - £1,600/AU$2,300/US$2,000
The MSI GS70 Stealth breaks away from familiar desktop replacement conventions: instead of being bulky, heavy and ugly, it's little thicker than an Ultrabook and half the weight of some rivals - and it's one of the best-looking laptops we've seen for quite some time.
The GS70's vital statistics are backed up by great quality. It's mostly made from brushed aluminium, and the gunmetal-grey finish is paired with slick design. The MSI's lid and base gently contour toward subtle curves at each edge, and we like the little details: milled speaker grilles and air vents, discreet status LEDs on the front edge, and the total absence of garish stickers that usually disturb wrist-rests.
Build quality is excellent, too - impressive when the GS70's dimensions are considered. The base is sturdy and, while there's a little flex in the lid, it's what we expect from machines with a 17-inch screen.
Read our MSI GS70 Stealth review
notebooks latops techlife TRBC TRBCFeature TRBCHottest computingbuyingguide-en-au computingbuyingguide-en-gb computingbuyingguide-en-us computingcarousel-en-gb computingcarousel-en-us computingpromo-en-gb computingpromo-en-us computingrecommended-en-gb TRBCHomeSupporting