Top tips: get the most from iTunes and iPod
28th May 2008 | 10:10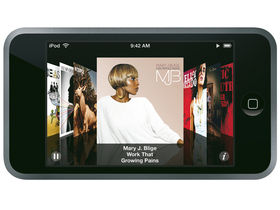 Tips, ideas, time-savers and more - our complete guide is all you need
If you're an avid Apple user, you've had some experience of iTunes before. And it's also likely – as everyone in the world seems to own one now – that you've got an iPod, too.
Put the two together and you've got a match made in heaven, but are you using them both to their full advantage?
As we've said before, one of the joys of Apple products is that they appear to the outside world to be extremely straightforward to use. And on a basic level that's certainly true.
Beneath the simplistic veneer through, lies is a complex and versatile beast; one that will reward the more curious user time and time again with a range of features which proves that Apple products may have the beauty, but they have the brains to back it up, too.
In this in-depth feature we're going to prove just how powerful iTunes and your iPod are – especially when they're linked together.
Packed full of handy tips and shortcuts, we guarantee that by the time you've finished reading it, this complete guide to getting the most from iTunes and your iPod will put you firmly on the path to a greater understanding of how hardware and software can, on occasions, work in perfect harmony.
Go further with iTunes
Playlist Previews
There's every likelihood that, as you begin to browse your way through the mountain of music and videos in the iTunes Store, you'll find plenty of things that you'd like to buy. If you fancy making a virtual shopping list, or just want to remember what it is you liked when it comes to pay day, then there's a quick and easy way to do this.
Start by creating a new playlist and call it something like 'Store favourites'. Then, go to the album or video you're thinking of buying (this tip works for both music and videos), pick the ones you're interested in from the list at the bottom, and then drag and drop them into your new playlist. This process will save a 30-second music or video sample for you that you're free to replay at your leisure.
iTunes Keyboard shortcuts
Shortcuts will enhance your iTunes experience. For the full list, go to Help > Keyboard Shortcuts in the iTunes menu. Here are our favourites:
Create a new Smart Playlist O+[+] Play the selected song [Enter]
Create a playlist with the selected songs C+S+[N]
Hide or show song artwork C+[G]
Open the View Options window C+[J]
Turn the Visualizer on C+[T] Display video full-screen C+[F]
Ringtones
Newer versions of iTunes now come with the option to create custom ringtones for your iPhone from songs you've purchased through the iTunes Store.
You can also now create ringtones from any song in your iTunes Library by importing into GarageBand, altering it to a suitable length (around 30 seconds is good) and then going to Share > Send Ringtone to iTunes.
Song Display Information
The small window at the top of the iTunes screen hides a multitude of fantastic bonus features, some of which you may not have bothered to venture into yet. For example, have you heard of 'scrubbing' a track?
This is simply a matter of dragging the diamond along the progress bar, and if you want to change the total time of the track to how long the currently playing song has left to finish, then just click on the number at the end of the progress bar. Experiment with iTunes and try this out.
Track info
You probably know that you can automatically get CD track information via the Gracenote CDDB database when you insert a CD, but you need to be connected to the internet to get the data – which includes track, artist and album names, along with the year the album was released and occasionally other information, depending on the album.
If you put a CD in when you're not online, though, Gracenote can still get the info for you at a later date. Simply highlight the tracks you want data for, go to Advanced > Get CD Track Names and it'll find it for you.
Backing Up Your iTunes Library
If you're particularly fond of your iTunes Library – and we're assuming here that you are – then you'll probably consider backing it up at some point.
Yes, we all know that backing up your files is a boring thing to do when there are clearly so many more interesting things you could be doing, but if the worst does happen and your hard drive packs up – which has happened to us – then you'll be very glad that you did.
Thankfully for you, iTunes makes the whole process as quick and painless as possible. Go to File > Back Up to Disc and follow the onscreen instructions. iTunes gives you the choice of backing up your entire iTunes Library, your purchases, or items that have been added since your last backup.
Then all you need to do is insert a blank disc and sit back and wait. When one disc is full, iTunes will prompt you to replace it with another blank one.
It makes sense to back everything up to DVD if you have a DVD burner on your computer – a 14GB iTunes Library will take around 20 CDs to hold everything – but even if you need to put everything on CDs, we strongly recommend that you take the time to do it.
Visualizer
Leopard gives you three new Visualizer styles to play with now, and they're called Jelly, Stix and Lathe. Like patterns on previous versions of iTunes, you can press special keys to reveal a number of clever hidden tricks.
All three new patterns will display album information if you press [I], but Stix will add a further stick to the pattern if you press the Up arrow, while the Down arrow handily changes the speed. Best of all though, in our opinion, is Jelly.
This Visualizer style has a range of tricks, including different styles (again, simply press the Up or Down arrow), the ability to make the pattern bigger or smaller (press and hold [1] or [2]) or produce a glow (press [8], [9] or [0]).
Importing Songs
iTunes gives you a surprisingly large amount of control over how you import your tracks from a CD. Here are some of the best features:
Joining tracks - you can link songs together when you import them by highlighting the ones you want and choosing Advanced > Join CD Tracks.
Bit rate - the default bit rate for importing songs is 128kbps (kilobytes per second), which is fine for when you're playing music through your Mac or basic iPod headphones, but you'll notice the drop in quality from the original CD if you play your imported tracks through a decent set of speakers or headphones. If you increase the bit rate to at least 192kbps before you import the tracks from a CD then you'll find that there's a noticeable increase in the quality of them. Go to iTunes' Preferences, click on the Advanced tab and then the Settings menu. Choose the Custom option and select 192kbps from the list.
CD options - you can even choose what the CD does when it's inserted into your Mac. Go back to the Advanced section of iTunes' Preferences and, at the On CD Insert menu, you can choose from Show CD, Begin Playing, Ask To Import CD, Import CD and Import CD and Eject.
Printing CD Inserts
One oft-forgotten feature of iTunes is the ability to print out case inserts for your own CDs.
If you're burning off an album you've purchased from the iTunes Store, then iTunes can print out a sleeve with the album art on one side and the track listing on the other – and, as the artwork is usually high quality, the results are surprisingly impressive.
Alternatively, if you're creating a compilation CD for someone, then you can choose one of the many different print options to print out a mosaic of album covers from the different artist.
Start by selecting the playlist you want to burn to CD and then press C+[P] to bring up the Print menu. Make sure that the CD jewel case insert option is highlighted – the other two options just print listings by song or album – and then choose your next option from the drop-down menu.
The default option is Text only, but you can also select Mosaic (which prints a collage of album art from the various tracks on the front and puts a song listing on the back), or have a combination of various text- and image-based choices.
Smart Playlists
A great way to make a playlist based on a set of given variables is by creating a Smart Playlist.
Go to File > New Smart Playlist. Now you can add various conditions to narrow down your iTunes Library, simply by altering the pull-down menus and then adding new rules by clicking on the + symbol on the right side of the window.
If, for example, you want to instantly create a playlist featuring all your music from 1992, you can do this in no time! Just select Year in the first menu, is in the second one, and then type 1992 in the box on the right.
You can also limit the amount of tracks the playlist contains and even have live updating, so that iTunes automatically adds news songs that match the Smart Playlist's criteria.
The range of playlists you can create is almost limitless, so you're free to let your imagination run wild. For a good starting point, we recommend that you check out the www.smartplaylists.com, which has plenty of examples for you to try.
Playlist Tips
On a basic level, playlists are very straightforward – you just create a new one and drag your songs into it. This doesn't duplicate them, as it only creates a link to the original file.
This means that you can make as many playlists as you like and it won't affect your iTunes Library or your Mac's memory. There are lots of things you can do with playlists, though, that might surprise you:
Saving playlists - you can save a copy of a playlist, then export it to another iTunes Library. As long as the songs are duplicated in the other Library, all the tracks will play fine. To save an individual playlist, select it and go to File > Export (picking XML from the drop-down menu); to save all of them, choose File > Export Library. Then, to import them into your other iTunes Library, select File > Import.
Searching playlists - if you have a massive playlist library, and you want to quickly check and see if a particular song is already in one of your playlists, right-click on that song and choose Show in Playlist from the list of options.
Organising playlists in folders - staying with those who have a large collection of playlists, it's worth remembering that it's easy to sort them into folders. Choose File > New Folder, give the folder a name and then drag all the playlists you want into it.
Adding Applescripts
As good as iTunes undoubtedly is, it's worth knowing that it can be made even better by AppleScripts. For the unaware, these are small programs that can be added on to the main software to give additional features.
Rather than being standalone programs in themselves, AppleScripts are actually accessed and run directly through the main software.
There are hundreds of useful ones at Doug's AppleScripts for iTunes, but here are just a few of our favourite ones to get you started:
Import iPod Audio Files - this first handy AppleScript was written by Doug himself and allows you to copy tracks from your iPod to your computer, adding them directly to your iTunes music folder. Sadly, it's not compatible with the iPhone or iPod touch, but it has been updated recently to work with Leopard.
Find Album Artwork With Google - this does what you'd expect. Generally we're pretty impressed with iTunes' built-in album art finder, but there is still a surprisingly large number that it simply can't find. This AppleScript will search through Google for you and try to come up with a suitable alternative.
Make Bookmarkable - if you're looking for an even easier way to make your tracks bookmarkable, then this is the AppleScript for you! Quite simply, it changes the file extension of the selected AAC track to '.m4b', which means that it's then treated in the same way as an audiobook.
Transfer your library
If you've bought a new Mac, you'll want to transfer your files across from the old one.
To move an iTunes Library you can easily burn it to disc, but unless you've got a large stack of DVDs, this could be a time-consuming and lengthy process.
The easiest way to move files from one Mac to another is with the Migration Assistant program.
You'll find this tucked away in the Utilities folder in Applications on your hard drive and, as long as you've got a FireWire cable, you can simply connect the two computers together and the program will move across all your iTunes Library files for you.
Right Click Shortcut
If you want to quickly get information or alter any of the tracks in your iTunes Library, there's an easy way to do it. If you right-click on the mouse over a highlighted song (or songs), or press [Ctrl] and click on the mouse if you have a single-button mouse, the Shortcut menu appears.
Here you can quickly get information on the song, change the rating, show the track in a Finder window (useful if you need to find its location in a hurry) or access all manner of other options.
One other useful and little-known tip is to right-click on the column headers. Then you're able to auto-size all of the ones currently displayed or pick and choose from the full list.
iPhone and iPod Touch
Music Icons
If you're lucky enough to own an iPhone, let's kick off with a way to customise its display to suit the way you use it.
Go into the iPod mode of your iPhone and you'll have already noticed that the four icons at the bottom of the screen are used to select the Album, Artist or Podcast that you want to listen to.
If these aren't the things you'll want to go to most often, and you'd rather have a different quick link here, Apple has made this easy to reconfigure.
To do this, tap on the More icon on the right-hand side of the screen and then the Edit one in the top left-hand corner.
Now you're free to add any new quick links you'd like, including Composers, Compilations and Audiobooks. Simply press down on the new icon you want and then drag it over the one you want to replace.
Quick scroll
There are two ways to scroll through a long list – either songs or your contacts list. You can just flick your finger on the screen, or you can tap on the corresponding letter of the alphabet running down the right-hand side of the window.
If your list is particularly large, though, this could be time-consuming, and there are times when you'll want to scroll through things more quickly. How is it done?
Well, try holding your finger down on the alphabet and you can then move your finger up and down the list, which you should find much faster than just flicking through it
Reboot iPhone
As much as we hate to admit it, there will be times when your iPod touch or iPhone doesn't behave quite as it's supposed to. If you find that it appears to have crashed, then you can try to hold down the Home button for around six seconds to reset it.
If that doesn't work, though, then we recommend that you press down both the Home button and the Sleep button on the top of the iPhone together.
After about four seconds the Slide to power off message appears, but if you keep both buttons held down then it'll reset after around ten seconds and the screen will change to a black one with an Apple logo.
Safari Tips
We still haven't become bored with how the iPhone lets us have a fully functioning (well, almost) Safari browser in our pockets. It's just fantastic! Here are a few useful tips to make sure you're getting the most from it:
Share link - if you're on a site and want to share the link with someone, simply tap on the Address bar at the top of the screen and the Share button will create a message for you that includes it.
Quick jump - navigating a page on your iPhone may be about as straightforward as it possibly could be – that's the joy of using it. But if you want to jump from the bottom of a long page to the top in a flash, then just touch the top bar of the iPhone and you'll instantly leap back to the top of the current page.
RSS - if you view a lot of news sites on the internet then it might be worth considering linking to their RSS feed area, rather than the main page – presuming, of course, that the site has one. That way, you'll find that the site will load much faster and you'll be able to access the news you want without your browser having to spend valuable time loading up countless images and page furniture.
Window in window - to scroll through copy that's in a separate window on a website, simply put two fingers inside the box and move them apart slowly. If you've done this properly, you should find that the smaller box scrolls while the main page stays in the same place.
Power-Saving Tips
The iPhone's battery consumption is pretty good, but here are a few ideas to make it even better:
Brightness - it might be self-explanatory, but if you turn down the brightness level for the iPhone's screen you can save a chunk of battery. Go to Settings > Brightness and then drag the slider to around 50%.
Email - the more your iPhone checks your mail account, the more power it uses. If you want to adjust how frequently it looks for new emails, go to Settings > Mail > Auto-Check and change it so that it only checks, say, every half an hour or once an hour.
Turn it off - if you're not likely to use either your WiFi connection or your Bluetooth one, then you might as well turn them off. Go to Settings > WiFi to switch that off, and head to Settings > General > Bluetooth to deactivate your Bluetooth connection.
International help
Typing in URLs on any keyboard is tedious, but it's even more so on the iPhone. Apple has gone some way to ease this matter with the .com button, but what if you're based in the UK, France or Germany? Presumably, if you want to access websites local to you then you have to type the URL in full. Or do you? Actually, you don't.
The good news, is if you go to Settings > General > Keyboards > International Keyboards, you can change the language to one that's more suitable for the country you're living in. Then, when you're back on the keyboard, just click on the picture of a globe and choose the particular keyboard you want.
Now, when you press the iPhone's .com button you should be able to choose the URL extension you want without doing any unnecessary typing.
Faster keyboard
There's been a lot of negative feedback about the iPhone's keyboard, but we're not sure what all the fuss is about, especially when you consider that most people have been happy to type in texts on mobile phones for years.
But if you want to make it even easier for yourself, make sure that you always type on it when it's in the Safari landscape mode. Also, if you touch and hold your finger on the keyboard, this magnifies the buttons. Finally, an easier way to type a comma is to tap on the .?123 button and then slide your finger along to it.
iPod classic, nano and more
iPod reset
From time to time an iPod will crash and freeze. This is common and the solution is quick and painless. The method for resetting your iPod depends on the model you have.
If you own an older iPod (third-gen or earlier), you have to flick the Hold switch on and off and press the Play/Pause and Menu buttons until the screen resets and the Apple logo appears. For all newer iPods, do the same with the Hold switch, but instead of the Play/Pause and Menu buttons, hold down Menu and Select.
TV connection
If you own an iPod with a colour screen, you can connect it to a TV to view photos or videos (assuming you own a video-enabled iPod). You don't have to buy Apple's very expensive AV cable, either.
If you get any standard AV-to-RCA cable, which you can buy online from around £5, this will be fine, but you'll need to connect it differently. The yellow RCA plug goes into the white jack on your TV, the red one goes into the yellow jack and the white one goes into the red jack.
Now connect the other end to your iPod and the picture should appear onscreen. If it doesn't, go to the Video settings on your iPod and switch the TV out on.
Updating your iPod's software
It may be hard to accept, but even your iPod will occasionally behave badly, and this may be down to a bug in the system software. When bugs are found (they're not that frequent), Apple will update the iPod's system software.
Make sure you're connected to the internet and go to Software Update in the Apple menu. See if there's a new version to download. Alternatively, iTunes will let you update your iPod's software when you connect it if this needs to be done.
Golden oldies
If you have any music on vinyl or tape that you want to get onto your iPod, it's a lot more straightforward than you might think. For starters, you need to get hold of a piece of software that will let you record live audio being played on your computer, and the one we recommend is Audacity.
It takes a bit of figuring out, but it's free and will do the job perfectly well. Now get hold of a mini-jack-to-RCA cable and connect up your stereo to your computer.
Start Audacity recording and begin playing the tape or record and it will be stored live as a continuous MP3 file. When the recording has finished, stop Audacity and follow the application's Help section on how to split your file up into individual tracks.
General tips
Finally, here are a few small tips that every self- respecting iPod owner should be aware of:
Ratings - you may not have thought of using the Ratings feature of your iPod (giving a song a rating between one and five), but it's seriously worth doing, especially if you're a fan of Smart Playlists. To add a rating to a song, press the Select button until the Rating screen appears and add it with the scrollwheel.
Skipping - want to skip through an audio or video file quickly? If you press down on either the left or right side of the wheel (depending on whether you want to go forwards or backwards through the track), it'll skip through to the part you want.
Multiple iPods
Most households now have more than one iPod, but if you only have one Mac in the house, you have to find a way of syncing all the various iPods on that machine.
There are a couple of ways to sync more than one iPod with a single copy of iTunes. The easiest way is to set up playlists for each iPod. That way, when you connect each one it will only sync with the playlist (or playlists) you tell it to.
Alternatively, you could set your computer with a separate account for each member of the household. That way, when they log in they get their own personal Mac Desktop and unique settings for each piece of software.
Batterylife
As with anything that runs on batteries, you want your iPod to play for as long as possible. To get the most out of the battery, make sure you don't use things that drain it, such as the backlight (you can adjust the timer for this so that it switches itself off), the Equalizer and, oddly, files of 9MB or more like audiobooks.
Other useful tips include making sure that you always leave the Hold button switched on when you're not using your iPod, and making sure that you charge it up correctly.
Your iPod will restore around 80% of its power after an hour's charge, but it takes another three hours to bring it back to full power. And, to sustain the battery's life, try to run the battery down completely before recharging it, rather than boosting it in between.
iPod Apple iTunes