18 years of fun: Happy Birthday PlayStation
4th Dec 2012 | 12:00
The console that defined a generation comes of age
Amazingly, the Sony PlayStation is 18 years old this week.
The console that defined a generation has come of age - a fact which, aside from being a sharp reminder of how old we've all got, has many of us donning our rose-tinted nostalgia specs and remembering the fun times it's given us.
And it is in honour of those years of Sony-powered fun that TechRadar has compiled this definitive history of PlayStation home consoles through the years. The highs and lows. The favourite games that kept us awake till 5am. And what the games industry itself remembers of each era of enjoyment.
Back in 1994, the original PlayStation was widely ridiculed by gamers at its Japanese launch, mainly because it bucked the dominant tech trend for home consoles set by the likes of Nintendo and Sega in the late 1980s.
The games came on a CD (of all things!) and not on a chunky plug-in cartridge. Yet while Nintendo and Sega (and Amiga and ST) fanboys scoffed at Sony's upstart, the sales figures soon began to speak for themselves. This was a game-changer.
Through various improvements, iterations and re-launches over the past 18 years, PlayStation has unquestioningly become the brand that is synonymous with gaming on the TV in the late 1990s and throughout the 2000s.
While overall video game hardware sales are down this year, Sony has sold 70 million PlayStation 3 consoles worldwide since 2006 and announced the 70 millionth sale last month.
Sony sold an incredible 269.7 million PlayStation consoles over the first 15 years of PlayStation (140.7 million of which were PS2s, 27 million of which were PS3s) and an astounding 2.632 billion PlayStation games. So that means total PlayStation sales are somewhere in the region of 313 million consoles.
There are now 3,590 PS3 games available, which amounts to 595 million games sold worldwide.
PlayStation Network, the PS3's free online service, is now available in 59 countries worldwide, while the PlayStation Move controller, which adds motion control similar to the Nintendo Wii, has sold more than 15 million units.
The announcement sees Sony catching up to the Xbox 360, which reached the 70 million total unit sales milestone at the end of September.
While Sony and Microsoft battle it out in the console race, they're fighting for second place. Nintendo announced in September that the Wii reached 97.2 million sales since its launch.
Eyes are now turning toward the next generation of gaming hardware, which begins this month as the Wii U launches worldwide.
New consoles from Sony and Microsoft are also in the works, commonly referred to as the PS4 and Xbox 720, though details are scarce on either system.
Rumors peg the new systems for release sometime toward the end of 2013, or even falling back into 2014, so Sony still has some life to squeeze out of the PS3.
As you'll see from our history of the console, a new PS3 model, dubbed "super slim", launched just a few months ago, so it seems Sony still has a few tricks up its sleeve before it passes the torch on to the PS4. Let's take a trip down memory lane.
Sony PlayStation / PSone
Launched: December 1994 / October 2000
Cost: £300 / £80 on UK release
Spec: 32-bit, 5th generation games console
Distinguishing features: CD-based games, CD player, Triangle/Square/Circle/Cross on controller
Main competitors: Sega Saturn, Nintendo 64
Biggest titles: Gran Turismo, Ridge Racer, WipEout
Lifespan: 11 years
Aaah, the original PlayStation. Where do we start? The real and deeply visceral future-shock of playing Ridge Racer on our TV at home is perhaps what we remember most vividly. The graphics! There genuinely had not been such a superbly realised and deeply immersive driving experience up to that point outside of your local seaside arcade.
Playing Ridge Racer on the first PlayStation (that we bought second-hand for around a hundred quid from Loot back in 1996) was a revelation. It immediately made the lounge a far more exciting place to be.
"Without shadow of a doubt, my favourite PlayStation game was WipEout," says Bethesda Games UK's PR Manager, Alistair Hatch. "There were a lot of games which I played to death on the PlayStation including the likes of FFVII, Ridge Racer, Time Crisis, Gran Turismo, and Tony Hawk: Pro Skater, but WipEout was revolutionary in so many ways that it stands as my favourite game on PlayStation."
"In addition to playing arcade games like Ridge Racer in the comfort of your own home – probably a favourite memory of many gamers, the games that stood out for me were Final Fantasy 7, Syphon Filter, Metal Gear Solid and Medal of Honor," recalls Majesco Europe's Marketing Manager, John Merchant.
"It was also a real hotbed of creativity - from titles like Final Fantasy 7 and Metal Gear Solid to cult favourites like Parappa The Rappa."
And let's not forget the game that really put PlayStation on the map (and on the cover of now defunct style bible The Face). Eidos' Tomb Raider created one of gaming's first major female heroines in Lara Croft and combined elements of 3D action, platforming and puzzle games in ways that many have copied but few have matched since.
So those were the games that we remember. And in terms of the hardware, it seems almost quaint now, but for many the simple fact of having a CD player for the first time was a massive added-value bonus with the first PlayStation console. Let's not forget, for those of us who were floating through our student days around that time, we were still listening to a lot of our music via cassettes and even those funny old vinyl disc things.
However, before we get too carried away, let's also not forget that there were also a few glitchy "lows" with the first PlayStation console. Most notably the annoying necessity of "having to turn the PlayStation upside down to make games run" as Alistair Hatch recalls.
The first PlayStation hardware also wasn't quite up to the task of delivering any truly great first person shooters. "Medal of Honor was nice – but it wasn't quite Goldeneye," as Majesco's John Merchant so eloquently puts it.
Though that of course was all soon to change with the arrival of PlayStation 2…
Sony PlayStation 2 / PS2 Slimline / PSX
Launched: Nov 2000 (UK) / September 2004 / December 2003 (Japan only)
Cost on release: £300 / £150 / Not available in UK
Spec: 64-bit 'Emotion Engine' CPU, 6th generation games console
Main competitors: Sega Dreamcast, Nintendo Game Cube, Microsoft Xbox
Units sold: 138 million to date
Biggest title: Grand Theft Auto: San Andreas (over 17 million copies sold)
Lifespan: Sony to support through till 2012
Us Brits were a little bit late to the PS2 party. Fashionably late, we like to think. In retrospect, at least. This was all thanks to Sony mis-allocating its worldwide stocks of the console and thus being forced to put back the massively-hyped launch to November 24, 2000 in the UK.
Despite these launch hic-cups (something Sony seems good at!) and protestations from UK gamers at the time, the machine went on to become the best-selling games console in history.
As with all new Sony hardware, the PS2 was priced at the top end of the console market at a whopping £300. The same price as the original PlayStation at its early 1995 UK launch. Even so, the quality of the first-party and third-party games on offer soon after launch meant that Sony soon saw off Sega's Dreamcast to become the dominant sixth-generation games console.
Favourite games?
"This is a real difficult one to choose," says Bethesda's Alistair Hatch. "I was fortunate enough to be working in the industry at the peak of the PlayStation 2 lifecycle and sharing a house with others working in the industry as well. Consequently we ended up with a shared collection of what seemed like a million games, so picking one favourite is very tricky."
"I would say I was most excited about GTA: San Andreas coming out – their [Rockstar's] hype machine did a wonderful job. My most played games were Virtua Tennis 2 and Tiger Woods Golf. Most social was Eye Toy. But my favourite three were probably God of War, Burnout 2 and GTA: San Andreas."
Just as with the CD player feature with the original PlayStation, for many PS2 owners, the console also meant having a DVD player in the home for the first time, boosting sales of the DVD movie format considerably in the process.
In addition to all those immense blockbusters mentioned above and the emergence of a new style of casual/social game with EyeToy, the PS2 also really pushed the limits of more experimental, leftfield and art-house style games. And, with Free Radical's sublime Timesplitters 2, we finally had the console shooter we'd been dreaming of.
"Ico and Metal Gear Solid 2 were my favourites," agrees Majesco's John Merchant. "Plus, playing multiplayer Timesplitters 2 and the first SSX are happy memories - but the arrival of Grand Theft Auto 3 was the real standout. The influence it's had on the gaming landscape is immense."
Sony PSX: This is a low
As with all gaming consoles, the PS2 had its lows. A class action lawsuit was filed against Sony Computer Entertainment America back in 2002, in the Superior Court of California, County of San Mateo, addressing consumer reports of inappropriate "no disc error" messages.
Sony had to shell-out $25 and a free game to those affected by the problem. And a free repair. However, Xbox's widely-publicised 'red ring of death' problems since then makes Sony's problems at that time seem almost insignificant in retrospect.
Perhaps another low was the limited uptake of PS2's online features and functionality. Indeed, SCEE founder Chris Deering did admit to us recently that Sega was perhaps "five years ahead of its time" with Dreamcast in terms of that console's online functionality. Not that it did them much good, mind.
Finally, we agree with Majesco's John Merchant that the PS2's greatest "low" was the fact that its immense user base "steadfastly refused to support some of this decade's finest games - Ico, Psychonauts, Okami - some people just don't know what's good for them!"
Fast forward to November 2004 and Sony updated its PS2 hardware with the PlayStation 2 Slimline, the third major hardware revision (of which there has now been thirteen in total) introducing a far more attractive and lightweight design at a far more affordable £149 price-point.
David Reeves, President of Sony Computer Entertainment Europe (SCEE) noted at the time that, "this totally redesigned, network ready model will demonstrate that PlayStation has once again the design flair and innovation that has made PlayStation the world's best loved and most successful games console."
What David Reeves didn't comment on (much) at the time was Sony's ill-fated PSX media centre. The PSX seemed to have it all, combining the PS2 with a DVD burner, hard drive video recorder, music player and loads of other multimedia features.
But Japanese gaming fans didn't buy it. Hence it became clear that the market just wasn't ready for such a machine and Sony quietly canned production of the PSX for Europe and the US. If you really still want one, then you can still pick them up on eBay now and then for £300 upwards. Though what you would do with it is beyond us.
However, this DVD-recorder-cum-games-console was an obvious precursor of what was to come later with PlayStation 3…
Sony PlayStation 3
Launched: November 2006
Cost: £425 (UK at launch)
Spec: 7th generation games console, IBM Cell CPU
Main competitors: Nintendo Wii, Microsoft Xbox 360
Units sold: 70 million to date
Lifespan: Who knows?
For us, the PS3 midnight launch event held on a cold and drizzly Friday night on March 22 2007 at the (now closed) Virgin Megastore on Oxford Street is an event tinged with a great sadness.
While it was cool to see a bunch of hardcore gamers and games hacks gather to be among the first to snaffle Sony's new toy, we stupidly forgot to put our names down for one of the first consoles. Only to then be left standing, open-mouthed and dumb-founded when it was also announced that the first one hundred PS3 buyers would also get a lovely big forty-odd inch Bravia plasma TV to play their new console on. Gah!
Aside from missing out on the free telly action though, the launch went far smoother than those of the Sony's previous two consoles. The launch was months later than those in Japan and the US, being delayed a number of times (which is pretty much par for the course by now with SCEE) but this meant that there was the added bonus of stores having plenty of stock at launch. Still, people headed out to queue in the rain at midnight.
Indeed, following reports of muggings and violence at the US PS3 launch, the flagship HMV store just down the road canned its own plans for a competing midnight PS3 launch due to poorly-explained 'security fears' on Oxford Street, with a HMV rep noting at the time that they instead wanted "to launch the product in a responsible way, and after speaking with Westminster council and police, decided an early-morning launch would be the best thing to do."
Plus, HMV only gave away a free copy of Sega's sublime Virtua Tennis with its PS3s. So Virgin properly trumped them with its free Bravia stunt!
You said how much?
The most obvious 'low' with PS3 was its unfairly high launch price, which only really come down by any significant amount at the end of 2009. To price the console at £425 in the UK, in the midst of a freakin' recession, just seemed unfair.
At E3 in July 2007, Sony announced a new "Starter Pack" that included a 60GB PS3, an extra wireless Sixaxis controller and the two bestselling first party games: Resistance: Fall of Man and MotorStorm. Yet it still all seemed a bit too little, too late and gamers and games hacks alike were becoming increasingly frustrated by Sony's recalcitrance on pricing.
Sony's charismatic development boss Phil Harrison tried valiantly to defend the pricing strategy in hundreds of press interviews at the time, most often citing the added-value of the PS3's Blu-ray drive.
Getting thinner
Sony decided to reinvent the PS3 with the launch of PS3 Slim before Christmas 2009. The idea of the £250 console was that there would be far more affordable console/game bundles available coupled with some seriously big games.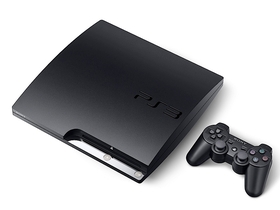 Still, pricing quibbles aside, the games are really what matter. And after a rather limp launch line-up, 2008 and 2009 have seen some genuine exclusive crackers. PS3 exclusives such as Little Big Planetand Killzone 2 have set benchmarks the industry looks towards. And there have been numerous others, many of which are unfairly overlooked.
"I spent a huge amount of time playing SEGA Rally (revo) on the PS3 and really enjoyed it," Bethesda's Alistair Hatch tells us, reminding us of one of the first games that really did it for us on PS3.
"InFamous as well, the sense of scale was great and I always felt like I could clear one more area before bedtime," Hatch adds."But I would say my favourite PS3 game is Uncharted. I'm a sucker for games with blue skies and lush environments. Naughty Dog did a job on it and best of all gave me the Indiana Jones gaming experience I've always wanted. Just without the hat and whip."
Majesco's John Merchant concurs, telling us that his two stand-out favourites are – much like us – "Call of Duty: Modern Warfare 2 and Uncharted 2" and adding that his own personal PS3 'hardware highs' have been subscription-free online gaming and Blu-ray.
The longer-term successes of PS3's online virtual world Home and indeed Blu-ray as a home cinema format are still far from secured, mind.
2010 followed with massive triple-A games such as Gran Turismo 5 and God of War 3.
The age of super thin
Sony has followed up the PS3 Slim with the PS3 Super Slim, which we reviewed in September. It offered a slightly cheaper price in a smaller, cheaper-looking build. A good option for those yet to enter the world of PS3, but little to offer owners of older models.
Sony PlayStation PS3 PS2 PS3 Slim