10 Japanese gadgets you'd love to own
2nd Jan 2008 | 10:31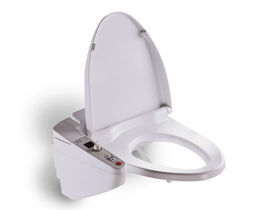 From MP3-playing toilets to personal robots
The end of a year is the traditional time for reflection in this gadget-peddling business we love so much.
But what's an honest hack to do when so much of the best gear is never going to be available to those 99.9 per cent of readers who live outside of the Far East? That's right - tease you with them all over again in our look back at the best 'Only in Japan' items of 2007.
Who remembers RFID?
Standout of the year is a wireless technology that really matured over the last twelve months. RFID chips have been in new Japanese phones for a couple of years now, in travel cards since 2001, and they appear to have finally reached critical mass this year.
Such has been the rapid spread of the e-cash chips in phone handsets, it's difficult to find a shop in greater Tokyo that doesn't have a reader for at least one of the major flavours - be it Suica, Pasmo, Edy or Nanaco, there's little need for filthy old cash in Japan. It's a scenario that's sure to play out in the West in about, oh.... 2045.
The inevitability of RFID making it to phones everywhere, therefore, means it's sure to spread far and wide from Japan, giving it an 'Escape from Japan' rating of 10/10 (so very likely, but it'll take a while, ok?) .
Mobile phones of the year
Speaking of phones, it's no secret that your correspondent isn't a massive fan of the quotidian design of most handsets from Japan. Apart from one. Sanyo's Infobar 2 recently hit KDDI's network and has been selling out faster than Led Zepp tickets to mulleted old rockers.
The stylish phone weighs just 104g, yet includes the very-necessary RFID chip and software mentioned above, as well as a digital TV tuner, GPS and plenty more. Gorgeous design concealing gadgetry galore isn't unique to Japan, but the Infobar 2 is for sure. Escape from Japan rating: 0/10.
Our only other Japanese handset of note makes the list because it satisfies a genuine need - that of parents to protect their children. NTT DoCoMo's F801i is made by Fujitsu and features a million and one ways of notifying us where our kids are.
GPS location notifications flood in by email to registered addresses when the phone is switched off, when it is separated from a tracking device worn by the child, when a button is pressed and when there's an R in the month. A 100dB alarm with a high-intensity flashing light completes a thoughtful product that's also a little scary. Escape from Japan rating: 3/10.
That's OLED entertainment
The year's most talked-about telly is undoubtedly Sony's XEL-1 OLED TV - it's the 11-inch OLED screen that's just 3mm thick that you've probably drooled over at some point. We've seen it in the plastic here several times and can assure you... we feel your pain.
With a contrast ratio of over 1,000,000:1 and a price tag the thick end of £1,000, the XEL-1 takes the breath away at every turn, which is why it, or at least OLED tellies in general, are guaranteed to spread in the next few years. Escape from Japan rating: 10/10.
The other television-related trend on view this year has been the Japanese terrestrial digital technology known as 1-seg. Tuners for the low-bandwidth version of digital TV aimed at mobile devices can be found in everything from electronic dictionaries to - of course - phones.
1-seg tends to appeal most to older people keen to catch up on the day's news on the way home from work, rather than to trend-setting youngsters. Still, regional variants on the mobile digi box will likely succeed elsewhere before long. Escape from Japan rating: 7/10.
Robots, robots and robots
Robots always feature high on any Japanese wish-list and this year the choice is better than ever. DIY machines that come as kits can be found in every major toy and electronics shop now, with the most innovative being a pair of humanoid machines with rich skill sets.
Pirkus, from Robot Labs of Japan, costs £1,090 and can be controlled by Bluetooth from a mobile phone or PC. The 1kg metal man also has cameras for eyes and a great memory for faces - useful when next year's model gets sent out as a bounty hunter.

Plen, from Systec Akazawa, is another, similarly priced bipedal robot who takes orders by Bluetooth. This time, however, his party piece is not man (or woman) hunting, but roller skating and skateboarding. Hook him up with his own Skype account and he'll even do your bidding from the other side of the world. Escape from Japan rating: 3/10 (for both 'droids) .
Japanese lucky dip
One of the most compelling consumer uses of industrial technology we've encountered came as recently as last week in the form of a whole new level of car automation from Nissan. The company's Fuga model that has just gone on sale includes a raft of radar-based aids that control braking, acceleration and cornering. The pedals even give the driver's feet a nudge when he needs to be a little lighter on his loafers. Escape from Japan rating: 6/10.
Thanko is an oddball company that can always be relied on to give us a laugh with its ludicrous products. 2007 has seen the Tokyo house of fun bombard us with, among others, a USB hay-fever mask, heated USB slippers, gold bar USB hubs and bone-conduction sports headbands. The mind boggles in anticipation of the next twelve months. Escape from Japan rating: 2/10 (unless you find a friendly exporter).
Perhaps even odder, though, is the £835 toilet seat from Toto that performs all the lavatorial functions Japanese bidets are famous for, as well as playing back MP3 tracks from its onboard computer. The F5A Washlet, you see, has an SD card slot for those times when you really can't be parted from your digital music library. Escape from Japan rating: -1 million/10.
Christmas wrap-up
The final slot on our list goes to something that probably surprises most readers in the UK - cheap Japanese technology. Japan is supposed to be one of the most expensive places in the world and, in some respects, it is but if you can handle the language (and the import duty) there's nowhere better to do your gadget shopping.
As it's the season of goodwill, we won't calculate what you could have saved on your entire gift list this year by turning Japanese, but when you consider that, for example, the iPod nano starts at £70 there, the iPod touch is also 20 per cent cheaper than in the UK, and the cheapest PS3 costs just £175 (ouch), that ticket to Tokyo doesn't look so bad. Escape from Japan rating: 10/10 (if you make it to Akihabara, that is).
Lastly, one piece of gear you might not be able to find whatever the cost - Nintendo has no Wii supply problems whatever in its home territory. In fact, they're stacked high in toy shops and gadget stores alike. Oh, and the price? A mere ¥25,000 - that's £110 to you.